Main content
The real story behind Sam Mendes' World War One film 1917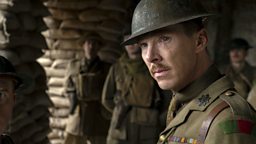 Award-winning director Sam Mendes revealed to Radio 1 that his World War One epic 1917 was inspired by his grandfather's war stories.
Alfred Mendes was enlisted aged just 17, and served in the 1st Rifle Brigade from 1916 to 1918. Although he was awarded a Military Medal, he never spoke about his time in Flanders until his grandchildren managed to "pester" it out of him.
Speaking to Radio 1's film critic Ali Plumb, Mendes said: "He didn't talk about it for 50 or 60 years, but his grandchildren for whatever reason managed to get it out of him."
"He told us stories that were fairly shocking, particularly for young kids, but they weren't stories of heroism, or bravery, or how he won his two medals, they were stories of luck, chance and coincidence, and how lucky he was to be alive."
The stories stayed with Mendes, and there was one in particular that he felt was destined for something bigger.
"There was one particular story he told us about carrying a message across no man's land alone at dusk. I couldn't let go of that one image. I thought: What if we develop that into a single journey of more epic proportions?"
And so 1917 was born, with the help of screenwriter and self-confessed First World War buff, Krysty Wilson-Cairns.
Ali Plumb caught up with the cast and the crew of 1917 to find out the technical precision that goes into a one-shot film, and just how extensive Krysty Wilson-Cairns' research was.
Just to warn you, you won't be able to look at camembert the same way ever again after watching this interview.
The film takes you into the uncertain territory of no man's land as General Erinmore (Colin Firth) sends two young British soldiers William Schofield and Tom Blake (George MacKay and Dean-Charles Chapman) on a mission to hand-deliver a message to call off a planned attack.
The attack is a trap, which 1,600 soldiers (including Blake's brother) are about to walk into, and it will end in massacre if the message is not received.
The film, complete with a impressive cameo cast from Benedict Cumberbatch, Andrew Scott and Mark Strong, follows Schofield and Blake's journey as they cross no man's land to the original German front in order to reach the Devonshire Regiment.
Ali Plumb reviews all the biggest releases and goes behind the scenes with Hollywood stars.