Main content
On common ground - the town built of clay
25 November 2015
Middlesbrough was home to one of the most innovative and interesting potteries of the Victorian era, Linthorpe Art Pottery. Despite only producing for ten years, the pottery, all made from local red clay, is now highly collectable.

Artist Emily Hesse and curator James Beighton wanted to recapture the spirit of the historic pottery whilst reflecting the character of modern day Middlesbrough with their New Linthorpe project. As they prepare to take part in Hey Clay, the Crafts Council's weekend of pottery taster sessions happening up and down the UK in early December, Emily and James look back at the importance of Middlesbrough's clay industry and how it is shaping their project.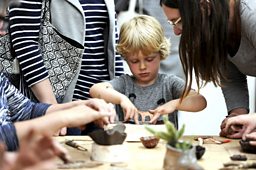 Between 1834 and 1971 it appears that there were more than 100 different brick manufacturers in and around Middlesbrough: many of these, especially earlier in the town's history, were keen to exploit the rich seams of red clay that lay just beneath the surface of the streets.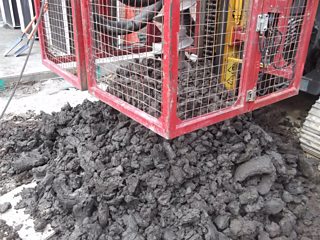 Linthorpe clay
It was pottery the likes of which had not been seen in this country before
Whilst iron and steel drove the fortunes of Middlesbrough in the Victorian era, it is no exaggeration to say that the town was built on, and of, clay.
In 1879 we are told of a meeting between the owner of one such brick factory, John Harrison, and Christopher Dresser, one of the leading designers of his day. Dresser managed to persuade Harrison that the clay he had thus far been using to make bricks, could also be used to make a contemporary range of art pottery. So it was that the Linthorpe Art Pottery was born and whilst it was short-lived (closing down just ten years later) it quickly gained a reputation for its uncompromisingly modern designs and innovative glazes.
It was pottery the likes of which had not been seen in this country before. The fact that much of the pottery's production was made using local clay is often overlooked, as is the fact that the pottery was a response to a downturn in the fortunes of the local iron industry with its resultant unemployment, which it was felt that the new pottery could help to address.
Modern day Middlesbrough is very different in so many ways to the stories we hear of its 19th century hey day and in other ways so similar. Steel remains in its heart although the peaks and troughs that this industry has endured throughout its history appear now to have been replaced by terminal decline.
Another story that we are told hereabouts is how the iron master John Vaughan stumbled across a nugget of iron ore whilst walking over the local hills. He deduced that there would be a workable seam beneath his feet and so the industry that came to define the town was born. With the last blast furnace in this area closing just a matter of weeks ago, neither industrialist nor government now have the will to work what is left of the ore, nor to keep the furnaces alight. New Linthorpe wants us to look once again at our feet and asks what we can build from our ground up.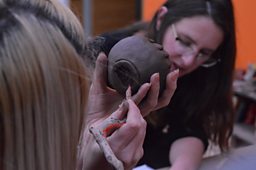 What is Hey Clay?
The Crafts Council has organised Hey Clay!, a weekend of taster sessions across the UK between Friday 4 and Sunday 6 December.
As part of Get Creative, the weekend has been organised to time with the enthusiasm generated by the Great Pottery Throw Down.
From Newcastle to Cornwall there will be more than 60 free taster sessions where you can roll up your sleeves and give it a go.
Great Pottery Throw Down judges Keith Brymer Jones and Kate Malone are just some of the talented potters opening their studios and running workshops for Hey Clay! And it's not just pot making on offer, there's also crafting porcelain and making clay characters.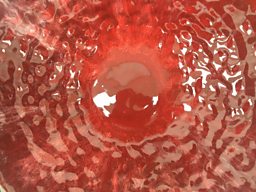 The clay remains and is workable, as does the spirit of innovation and the need. We believe that when faced with difficulties today, looking back to other moments of success in a town's history can provide inspiration and hope for our futures. New Linthorpe is exhibiting as part of Middlesbrough Institute of Modern Art's exhibition Localism, in which we are presenting examples of historic Linthorpe Pottery, drawn from the Dorman Museum's world-class collection, alongside our own work. We have also built a making space where we are inviting people to visit us and work with their local clay that we have dug and processed ourselves. We are asking them to discuss with us how they might use a pottery.
Looking back to other moments of success in a town's history can provide inspiration and hope for our futures
What though would a pottery in Middlesbrough look like today? It would probably look quite different to a 19th century art pottery. The pottery might be a space that can offer training and skills to people seeking employment; it might enable visitors to make their own tableware that they can fire in a community wood fired kiln and sell to bolster their income; it might make portable clay ovens that can offer freshly cooked meals to anyone who wishes to eat with us; it might make bricks with which people can start to build again.
We are asking every visitor to the New Linthorpe making space to help us conceive the shape of the pottery guided by what ideas have existed in the past and what materials exist in the present. We are delighted to be a part of the Crafts Council's Hey Clay celebration and the BBC Get Creative initiative and we look forward to inviting new and old friends on 5th December to enjoy, play, learn, think and shape with us.