Main content
'It's not as easy as walking out the door'
In 2016, Gavin sent a text to BBC Radio 5 live's Afternoon Edition after hearing a discussion on obesity. He described how he hadn't left his flat for eighteen months because of his weight.
The programme kept in touch with him over two years. These are Gavin's words as he went from not leaving the house to surgery and looking to the future.
The last time I went out unaided was 2014. It was my parents wedding vow renewal.
I only really go out my front door to put out a bin bag, in the bin just outside the flat, and that's every few days. Other than that I don't leave my doorstep.
I don't like sitting around and doing nothing. I'd love to just pick up a football and go down to the field. I want to get back into Sunday league football but I physically can't do it.
I want to get back into work, anywhere would do, but I physically can't do it. It's painful, physically and mentally.
It's not as easy as walking out the door and if it was I would've done it a long time ago. When I'm in pain, the pain gets so bad that it's physically crippling.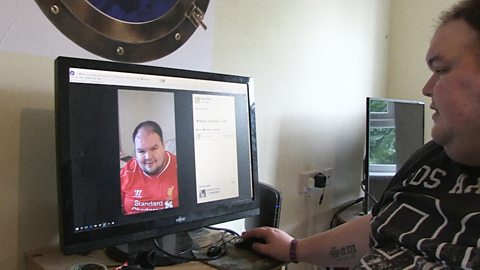 Ahead of gastric band surgery, Gavin describes how being overweight affects him.
A vicious circle
My weight has always fluctuated. At my heaviest I was 35 and a half stone.
Before then, I was working regularly and I was walking to and from work. I lost my job and stopped playing football.
When the weight started to pile on, that was when my mental health really went down.
It's a vicious circle, when I'm depressed I eat and when I eat I'm depressed.
I've never had any support for my depression, I've just been put on antidepressants and sent away. I've had to handle things myself and I think my eating is my way of handling it. I knew I was doing damage to myself, but I couldn't stop myself.
For a long time I found it difficult walking around, but getting to the point of not being able to go out, that really crept up on me.
When I need to go to doctor for tests, it takes four people to help me down the stairs and into the hospital transport.
The same four walls
I hate sitting indoors, I hate looking at the same four walls, 24/7. I hate being the size I am.
Things people take for granted every day, I struggle with.
I'm pretty much in pain everywhere. I get chest pains and I've just been told it's because of my weight. I'm scared that if I have something to eat, or if I get up and I do too much that that's it, I'm done.
My parents are absolutely fantastic. They come over and help tidy up, but I know they worry.
My mum worries that they're going to come over and she's going to find me on the floor, dead from a heart attack.
I've given both my parents keys not only for the security door downstairs but for my front door as well, just in case.
My last resort
The first doctor I saw about my weight, told me I need to take some exercise and cheer up. Then I saw a doctor who was so concerned that she put me on this journey for gastric band surgery.
The way it works is a band is fitted around the top of your stomach, it creates a feeling of fullness.
I've tried everything. This is my last resort.
Before the operation I was put on a pre-op diet, partly so they could see whether I was able to lose weight.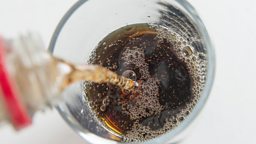 I used to drink 18 litres of Coke over a week and a half. I stopped drinking it completely. I cut out sugar and put sweeteners in my tea.
I've gone on diet before, but I've always put the weight back on.
This time I had support, I knew there was someone on the other end of the phone if I had any concerns.
I had to prepare myself mentally for surgery. I joined a couple of groups on Facebook for people having bariatric surgery all across the country.
It gave me more confidence in myself to know there are plenty more people going through it, I'm not the one struggling by myself, I'm not the one going through this process on my own. If I need the advice I can just do a simple post.
The operation
I was in hospital for four days, it was meant to be two, but I had some problems breathing after the band was fitted. The doctors thought one of my lungs had collapsed but it was just my body adjusting.
I was in a lot of pain when I came out, but one week after the operation I was able to bend down and kneel down.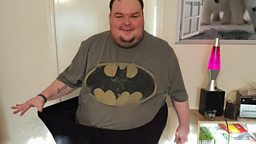 Just ten days after the operation, I had lost 10 kilos. When I left the hospital I was wearing 5XL clothes, about two months later I was able to fit into a 3XL T-Shirt. That was really emotional for me.
Now it doesn't take a struggle to get out of bed, it doesn't take a struggle to go to the toilet and it doesn't take a struggle to have a shower. I can stand there and make a cup of tea and not be in pain, before the operation I couldn't even do that.
After the operation
After the operation, post-op, is where the hard work actually begins.
I haven't been active for four years so I've had to get that movement back and build up the muscle strength again.
I feel better about myself but I still don't like the way I look. I know that will come in time and I will get my confidence back in time. I do feel happier within myself.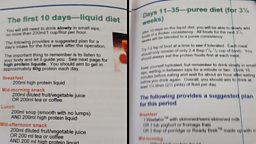 The post-op diet is liquid for the first ten days, so blending everything and protein shakes. After those ten days it's a pureed diet which is blending everything. Then it's the soft diet which is things like mashed potato and scrambled eggs. After that you're back on a regular healthy diet.
I'm going to be on the post-op diet for the rest of my life, but as long as I can maintain that healthy diet I can maintain my body weight.
The future
My main aim is to get back into work and I've already started looking. I know I've got to slow down, but it's difficult not to try and do everything at once.
I'm looking to get back into football as well and I've found an area near me that has a team, once I get the all clear that's where I'll be going.
People think overweight people are lazy people and don't want to exercise.
I just want to put it out there that people who are overweight do want to exercise, they do want to do things to change their life but sometimes it's just not physically possible. Sometimes they need a bit of help.
Four wheelchair users told us about the challenges they face when they travel on public transport.

TV journalist Gary Burgess who has ME asks why so little is known about the illness.