Main content
Hear the Bells of Notre Dame
Following the fire which broke out in Paris's Notre Dame Cathedral on 15 April 2019, many feared the bells, renewed as part of the 850th anniversary celebrations in 2013, might clatter to the ground if the flames caught hold of the towers.
Fortunately that did not happen and the bells are still sitting in their frames.
But for now, to the dismay of many Parisians, they must be silent for a time. Exactly 24 hours after the fire broke out, more than 100 cathedrals across France tolled their bells in solidarity with the people of Paris, as did many British towers.
The New York Times commented that "Emmanuel", the greatest of Notre Dame's bells, which has marked so many events, great and tragic, will yet lead the majestic chorus again.
Though unable to mark the Resurrection on Easter Day, 2019, perhaps the peal will be heard again soon.
Notre Dame's most famous bell...
Notre Dame Cathedral has 10 bells. The bourdon, which is tuned to F sharp, dates from the 15th Century and was recast in 1681 upon the request of King Louis XIV, who named it the "Emmanuel" bell. It has tolled to mark major events in the history of France such as the Coronations of French kings, Papal visits, and to mark the end of conflicts including World War I and World War II.
It also rings in times of sorrow and drama to unite believers, for example at the funerals of French heads of state, tragedies such as 9/11, and for the Cathedral's Christmas, Easter, and Ascension celebrations. Weighing 13 tons, and the acknowledged masterpiece of the whole group of bells, fortunately it escaped the devastation of the French Revolution. According to bell ringers, it is still one of the most beautiful sound vessels and one of the most remarkable in Europe. [Adapted from source: Wikipedia].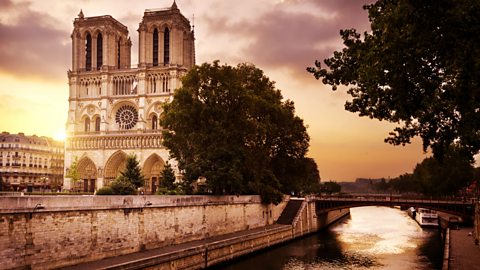 Recorded during the Cathedral's 850th anniversary celebrations in 2013.

Spiritual journeys on Radio 4
Ethical and religious discussion that examines some of the larger questions of life.