Main content
Dickin award collection
This collection highlights the brave endeavours of carrier pigeons during World War II.
It includes the death notice of a man executed by the Nazis for releasing a pigeon carrying a message to England.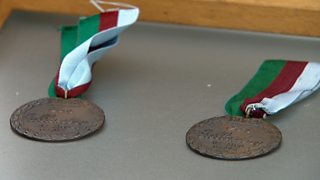 The pigeons were taken on board RAF planes and would be used to send messages home such as the co-ordinates of a crashed plane. Some of these pigeons undertook multiple journeys and survived against the odds.
The bravery of animals in wartime was recognised in 1943 by the creation of the People's Dispensary for Sick Animals Dickin Medal. This collection includes five Dickin Medals and related ephemera and valued between £180,000-£200,000.
Did you know? The Dickin award was established during WWII by the founder of the veterinary charity PDSA Maria Dickin to honour the work of animals in war.
Did you know? The first Dickin Medal was awarded in February 1943 to a pigeon that saved the crew of an RAF bomber that crashed in the North Sea. More than 60 animals have received the medal.
Get the app that lets you join in by guessing the values of items featured in the show.