Main content
Mat Fraser meets the Burlesque Legends
Every year, a succession of former striptease performers – now mostly in their 70s and 80s – get back up on stage and take their clothes off all over again. For his BBC Radio 4 documentary Burlesque Legends, the actor and performance artist Mat Fraser went to Las Vegas to ask them… why?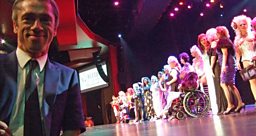 I'll admit that, before I saw it, my first thought was: isn't it a bit tacky? A bit weird? Not to mention embarrassing?!
As a lifelong burlesque fan, I was already well aware of performers such as Tempest Storm, April March, and Lottie 'The Body' Graves. During the 1950s and 1960s – the golden era of striptease – these women were among the biggest stars.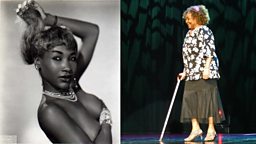 Lottie 'The Body' Graves, then and now
In recent years, many of the 'Living Legends' have attended the Burlesque Hall of Fame weekend, coming out of retirement to revive their old routines. Some of them had neither set their stilettos on stage, nor twirled a tassle, for half a century.
I'd been told that watching the Legends performing, after so many years away, was something I'd find "moving". That it would get inside me, somehow. I was happy to go along with that, although I wasn't convinced – until the first time I actually saw it. Nothing could have prepared me for such an overwhelmingly emotional and culturally shifting experience.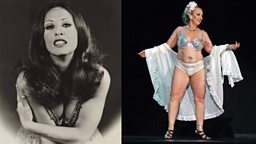 Isis Starr, then and now
As they begin their acts, suddenly their bodies recall what they're meant to do. Their physical memories transcend their actual memories, as well as any elderly infirmities. They rediscover the sashay, the bump, the groin grind. To witness this is surprisingly, unexpectedly, profoundly poignant. It confounds our perception of old ladies, of sexuality, and of beauty. Indeed, it reinforces the true qualities of such things.
Their physical memories transcend their actual memories, as well as any elderly infirmities."
And, for me personally, it goes much deeper than this.
As a disabled performer, I have a non-traditional body through which I'm proud to express my sexuality, my confidence, my showbiz pizzazz. Therefore, seeing the Legends assert their own sexuality, confidence and performance glamour strikes a chord with me. I welcome and celebrate their rejection of a culture that labels anyone who isn't some airbrushed image of size 10 perfection as somehow less sexy, less entertaining, less worthy. At the Burlesque Hall of Fame weekend, anything goes – even if the performer requires the aid of a stick, a walking frame, or an electric scooter.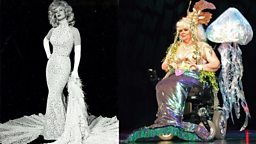 Holiday O'Hara, then and now
My own first brush with burlesque was in London's West End in 1973, aged 11. My dad's boyfriend was in the chorus of Gypsy, the musical about the stripper Gypsy Rose Lee. Night after night, I sat in the dressing room of the Victoria Palace Theatre, mesmerised by all these sassy, brassy women.
Thirty years later, in London's East End, I began hosting the burgeoning neo-burlesque shows at Bethnal Green Working Men's Club. This led me to become part of the burlesque scene in the United States where, after a courtship, I married one of its great stars, Julie Atlas Muz.
Julie and I are regular attendees (and performers) at the Burlesque Hall of Fame weekend. Held in the heart of Las Vegas, it's a crazy collection of around a thousand artists, producers, and enthusiasts from all over the world. It sees the crowning of Miss Exotic World, the Queen of Burlesque – a title Julie won in 2006. This annual event is a celebration of all things burlesque, not just the Legends. But of course it's the Legends who steal the show. And I've become rather fascinated by them and their extraordinary stories.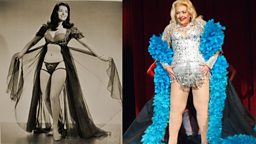 April March, then and now
Take, for example, Lottie 'The Body' Graves. Born in Detroit, she's now well into her 80s. She recalls having performed alongside Marvin Gaye, The Supremes and The Four Tops. Like many other African-American artists in a segregated United States, Lottie was subjected to the "racist curtain" - a sheet that was used on stage and in dressing rooms, to keep black and white performers apart.
You had to be careful of your movements, so that you weren't showing too much."

Melanie 'Marinka' Hunter
Others include Melanie 'Marinka' Hunter, whose career began in the early 1960s, and who later featured in the film All That Jazz. She shares stories of mafia-owned nightclubs ("I loved working for them, they gave you protection"), and of undercover police officers in the audience ("you had to be careful of your movements, so that you weren't showing too much").
At the 2015 Burlesque Hall of Fame weekend, April March was named 'Legend of the Year', weeks before her 80th birthday. Her granddaughter Nicole, who was in the audience, spoke of her immense pride in seeing her cooler-than-cool burlesque star granny receive the award. In turn, the Legend herself – known as the First Lady of Burlesque – was delighted to have the support of her granddaughter, particularly having been rejected by her own father because of her chosen career.
Of course, when they started out in this business, most of these women were shunned by society. Things have now moved on. Today's neo-burlesque performers have the utmost respect for their peers. Current stars such as Miss Indigo Blue, Julie Atlas Muz, and 'World Famous Bob' (who hosts the Legends' Reunion show) all bow down to these fearless women, citing them as icons of feminist agency and self-ownership. I'm not sure all of the Legends think of themselves in this way, but it can certainly be understood through this prism. As Indigo Blue puts it: "As a third-wave feminist, for me this is about women having the ability to do whatever they wish to do with their bodies."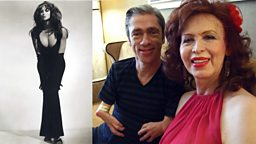 Melanie 'Marinka' Hunter, then and now, with Mat
Without the Legends, modern burlesque would not exist. That's why the wider community comes together every year, to honour the women who paved the way. In the run-up to the Hall of Fame Weekend, younger performers stage "fundraising nights", so that the older stars can afford to attend the event (most of them have very little wealth these days, their finances having been controlled by men in their heyday). When they arrive in Las Vegas, each Legend is assigned a younger burlesque performer to chaperone them for the weekend, assisting them in getting around, and helping them to sell their signed 10x8 vintage photos. The Legends discuss their careers, hang out and share stories, tips and tricks with the younger, eager beavers… and of course, they perform.
The music starts, the lights go up, and suddenly the years fall away."
And when they perform, they really go for it.
They don their glamour wear of yore. Any apprehensions, inhibitions and physical ailments are left in the dressing room. As the curtain rises over the huge stage of the 800-seater theatre, the music starts, the lights go up, and suddenly the years fall away. They feel the love of the crowd, the respect of their successors, and they get down and dirty with it. They bump. They grind. They titillate. Some of them even hump curtains.
And yet… there's so much more going on here. Through their performances, the Burlesque Legends challenge us to rethink our whole definition of sexuality: what it is, what it can be, and why it shouldn't be given a time limit or an expiry date. According to 'World Famous Bob': "For me these women redefine what it means to be a woman, what it means to age in our society, what it means to be a sexual and vivacious creature regardless of age – and in our society that devalues women as they age, they've given me new hope."
Mat Fraser presents Burlesque Legends on BBC Radio 4, Monday 23 November at 4pm.
Horatio Clare meets the German student duellists for whom a scar is a badge of honour.

Julian Joseph recounts how jazz diplomacy was used during the Cold War.

Christopher Bigsby traces the life and work of Arthur Miller, mostly in Miller's own words.

Ben Hammersley investigates fictional universes, from Harry Potter to Game of Thrones.

Sophie Thompson and Phyllida Law celebrate 50 years of The Magic Roundabout.

Andy Kershaw re-examines the Bob Dylan album that changed popular music and his life.

Performer Byron Vincent tries to overcome his paralysing fear of social situations.

Nichi Hodgson asks whether there's scope for an ethical code for producing porn.

An aspiring pop star meets Jacques Attali, a polymath who in 1976 predicted today's music industry crisis.

Alan Bennett and musicians young and old consider the orchestral heritage of Yorkshire.

A look at the violence and tribalism present at music gigs in the late 1970s and 1980s.

Gerald Scarfe explores the activity of the Walt Disney Studio during World War Two.

Two decades after his death, why does Sun Ra continue to inspire an obsessive following?

1000s of cassettes were found in Osama Bin Laden's abandoned Kabul compound in 2002. What was on them?

The real Japan and the Japan depicted in Western media are two different places. How have they influenced each other?

The story of a mysterious find on Morecambe beach by one man and his dog.