Main content
FAQ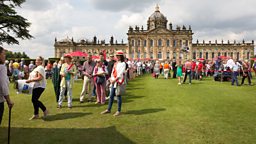 Attending Antiques Roadshow
All you'll need to know about your visit to an Antiques Roadshow near you.
What time can I get into a Roadshow?

Admission is usually from 9.30am until 5.00pm on a weekday Roadshow and 9.30am until 4.30pm on a weekend Roadshow. As long as you're in the queue by these times, we guarantee you will be seen by one of our experts.

* The event organisers reserve the right to close earlier than the published times if necessary.
Can anyone come to Antiques Roadshow?

If you are under 18 we ask that you attend with a parent or guardian. If you don't come with one then we will have to refuse you entry.
Can I come even if I don't have an item to be valued?

Yes, you can come along to just enjoy the day and see how we make the programme. There is no need to join any of the queues.
Do I need to apply for tickets, and is there a charge?

Admission to Antiques Roadshow is free, and the event is not ticketed – you just show up.

* Occasionally venues charge for parking, please check the venue page for more information.
Will I need to queue, and for how long?

Unfortunately, queues are part of Antiques Roadshow thanks to its popularity.

You'll need to queue for Reception, where you will be assigned a ticket to the team of experts you need to see (such as 'Books and Manuscripts' or 'Ceramics). If you've brought a selection of items, such as a necklace, a doll and a vase, you will need to queue to see different experts. If you are with family/friends, you could split up to see the experts separately.

Wear comfortable shoes, and come prepared for changing weather conditions. You are welcome to bring along a fold-up chair or picnic blanket to sit on.
What if I cannot stand for a long period of time?

We want to ensure that you have the best possible experience, so if you need any assistance or a chair please inform a steward.
Will I need to bring refreshments?

Our Antiques Roadshow Tea Tent will be at most of our venues where you can buy food and drink. Our venues often have their own refreshment outlets, but you are welcome to bring your own.
Is there disabled access at Antiques Roadshows?

Access can vary according to location and please bear in mind that many of our shows take place at historic properties. We try to put arrangements in place that make access for wheelchair users as straightforward as possible. Occasionally parking can be a distance from the valuation area.

If you require a sign language interpreter, please contact us with 14 days notice.

Sign language interpreter request at [LOCATION]
I am travelling to the UK from overseas and would like to visit an Antiques Roadshow...

What a fantastic idea. We'd love to hear from you if you are bringing something special or have a story you would like to share.
Should I label items with my personal details?

Be security aware. Do not put anything indicating your name or address, or any other personal details on show on your items or their packaging. Do not leave your bags unattended.
What if I have a large or heavy item to bring along?

Unfortunately we cannot offer any assistance to help bring items to the Roadshow.
Can I bring ivory to Antiques Roadshow?

At the end of 2018, the UK government's Ivory Bill gained Royal Assent to become law.

Further information on the detail and scope of the legislation can be found here:

https://www.gov.uk/government/publications/ivory-bill-2018

Please note that Antiques Roadshow no longer values items of antique elephant ivory.

However, our experts may be able to examine your items and offer guidance about the new legislation.
Is there a limit to the number of items I can bring to show the experts?

In order to keep the queues moving especially on busy days we limit the number of items you can show to each expert to THREE.
Do you have an expert for coins, stamps, rugs, carpets and musical instruments?

We do not have specialists in the fields of stamps, coins, rugs, carpets or musical instruments.
When will the Roadshow I attended be televised?

At the time of filming we won't know when the programme will be broadcast. However, if you've been filmed you will be notified of the transmission date. Our latest transmission schedule is on our homepage.
Is the Antiques Roadshow available on DVD or download?

Unfortunately we are not able to supply copies of the programme on request.
Can I watch Antiques Roadshow online?

Yes, you can watch the most recent episode of Antiques Roadshow again on BBC iPlayer for up to a year after transmission (UK only).
Can I get a valuation from a photograph, phone or tablet?

Our experts are unable to make a valuation based on an image.
Can I send in my item for valuation?

Experts can only give appraisals and valuations at Antiques Roadshows, not via email or post.

We do not have ANY experts based in the Antiques Roadshow office and we are unable to assist in valuations or appraisals.

You can find details of local antiques dealers and auction houses in the UK on the Association of Art & Antiques Dealers or The British Antique Dealers' Association websites.
Can I bring children to Antiques Roadshow?

Yes, this is a family friendly event however, children under 18 must be accompanied by an adult. If they do not have a parent or guardian with them then we will have to refuse them entry.

For their safety, please keep children under control and with you at all times.
Can I bring my dog to Antiques Roadshow

While we love our Antiques Roadshow dogs it is really up to the venue to decide this policy. Please check the venue pages on our website or Facebook before setting off with your dog. Even if you have visited before with your pet, on the day of the Roadshow filming may take place in restricted areas where dogs are not allowed.
Is there disabled access?

We aim to make Antiques Roadshow welcoming, open and accessible to all our visitors.

If you'd like to come to one of the Roadshow venues and require a sign language interpreter please give us 14 days notice by emailing antiques.roadshow@bbc.co.uk and in the subject line: Sign language interpreter request at [LOCATION]

If you'd like to bring an item along for a valuation please tell us about the item and include a photo so we can arrange for the most suitable interpreter.

If you require any other help or assistance on the day please let us know.
Can I bring an antique firearm or edged weapon to the Roadshow?

If you have brought an antique firearm or edged weapon to the show then you will need to declare it to our security team before you enter the event.

Antique firearms and edged weapons will need to be inspected by our armourer to make sure they are safe and then tagged to prove they have been inspected before they are allowed in.

You may be requested to hand in any weapons to our security for safekeeping between the search point and valuation.
Can I bring an item found when metal detecting or recovered from a shipwreck?