Main content
Primary Music KS1: Little Red Riding Hood - Info
These web pages offer a collection of songs and related music activities linking to the traditional story of Little Red Riding Hood. They target a range of learning objectives at Years 1 and 2 drawn from both Key Stage 1 Music and Literacy. They can also be used to stage your own performance of the story or concert of the songs.
The story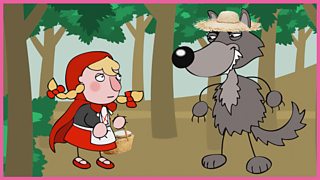 Red Riding Hood and the Wolf
The story begins with Red Riding Hood going to the local shop where Mrs Midgley tells her that a wolf has been heard in the local woods...but Red Riding Hood is sure it can't be true. She decides to make a cake for her Grandma, who lives in the middle of the woods, but when Ma injures her ankle Red Riding Hood must walk through the woods alone. She strays off the path and is confronted by the Wolf in disguise. When the Wolf learns that Red Riding Hood is on her way to her Grandma's he determines to get there first...
Using these web pages
The content for Little Red Riding Hood is structured on the seven songs to learn. Each song appears on its own dedicated page and includes the following resources (with links to examples from Song 1: 'I love red!'):
Additionally there is a Clips page where all of the video content has been aggregated and a Resources page where the following additional resources can also be found:
To download the videos you will need to right click on them and then select the appropriate option for PC or Mac.
Use the Tutorial video to begin learning each song: Sarah Jane Honeywell guides pupils through each song methodically, giving extra attention to any difficult passages or activities in groups.
Use the Story video to watch an episode of the story. Each episode links to the song on the same page and is about 5 minutes long. Use the Full vocal and Backing track versions of the songs to rehearse them in preparation for a performance. The full vocal versions are sung by a children's choir - ideal for joining in with!