Main content
The Witterlist - 10th April 2021
A dog-centric doc director joined Mark and Simon this week, and we had reviews of the latest releases to UK streaming services - including a four-time nominee at this weekend's BAFTA Film Awards.
The Interview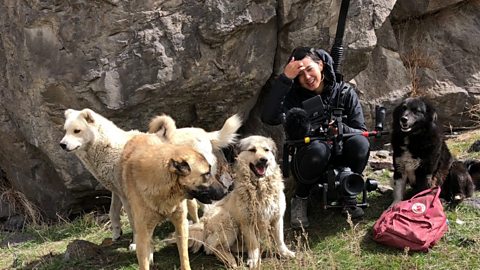 Simon Mayo and Mark Kermode talk to Elizabeth Lo about her new documentary, Stray.
Mark reviewed Elizabeth Lo's documentary Stray on the show a couple of weeks ago, a film following three stray dogs in Istanbul. We were lucky enough to be joined by Elizabeth this week, who discussed her inspiration for making the film, the fascinating history of stray dogs in Istanbul and how she found her three canine stars.
Riz Ahmed was on the show last week talking about his role in Sound of Metal, where he plays the drummer in a noise metal band who is suddenly struck with deafness. Co-writer and director Darius Marder used minute details in image, sound and performance to craft a remarkable film that is believable and intimate while communicating with a wide range of audiences.
The film is on Amazon Prime from 12th April and in UK cinemas from 17th May.
Writer and director Corinna Faith's hospital-set chiller takes place during the rolling power blackouts of 1973, and centres on a young nurse who is forced to work the night shift - and face a lurking horror. While taking influence from a number of sources, it has its own atmosphere that is effectively, hauntingly captivating. It also features a vocal cameo from this parish's own Joe Haddow, which may or may not add to the chills, depending on how you feel about radio DJs.
Made in association with Falmouth University's School of Film and Television - and crewed by students - Wilderness was originally released to festivals in 2017, but has now found distribution in the UK. It tells the story of a new, young couple who head out of the city for a break on the Cornish coast. With a small budget, it's a great example of how a tight script and smart use of locations can make even a modest film very cinematic and rewarding.
A small American town where the boring lives of the residents are upended by the discovery of replicant invaders who grow in pods and let out a haunting shriek when they spot regular humans. There are many versions of Invasion of the Body Snatchers that will serve you better.
Mark Kermode joins Simon Mayo to give his verdict on the week's movies