Main content
The Real Diaries of Anne Lister
Anne Lister's diaries are a unique resource. Running to an estimated 5 million words over 27 volumes and more than two decades, they are one of the longest social commentaries ever written.

Suranne Jones plays Anne Lister in BBC One's Gentleman Jack
In the meticulously recorded detail of Anne's daily life, a picture of the changing world of early 19th century Britain is presented in high definition.
What a comfort my journal is ... I thank God for it.

Anne Lister
The diaries are startlingly intimate, too. Anne is probably best known for her lesbian relationships, which she recorded religiously and in tantalising detail.
The secret code Anne developed – which she created from a mix of Greek letters, numbers and symbols – allowed her to write candidly about love affairs which would have been unthinkably transgressive to the society in which she lived.
Around a sixth of Anne's diaries are written in code, which she referred to herself as 'crypt hand'. Sex, menstruation, money, personal judgments about members of Halifax society, her digestive health - these are the things Anne wished to keep private.
The remainder of the densely-packed pages, detailing the public aspects of her day-to-day interactions, are written in heavily abbreviated English, or 'plain hand'.
As a way to freely process her innermost thoughts, Anne found her ability to write in code invaluable to the maintenance of her mental health.
'What a comfort my journal is', she wrote on the 29th April 1832. 'How I can write in crypt all as it really is and throw off my mind and console myself. I thank God for it.'
Anne's secret code was first broken in the late 19th century by her descendent John Lister, alongside Arthur Burrell, a Bradford antiquarian. Because of their transgressive content, the diaries were repressed, and it wasn't until almost a century later that the truth of what the code revealed had fully emerged, thanks to the pioneering work of local historians and academics.
The Full Key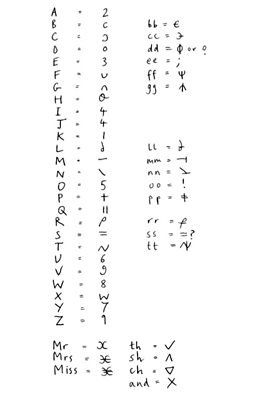 Anne frequently slipped from plain hand into code when she wanted to a write about a private thought.
In these two extracts from her diary, from 1832, she does just that. Look closely to see where she makes the switch.

© West Yorkshire Archive Service, Calderdale
Here, Anne is writing about a social call she paid on neighbouring heiress Ann Walker on the 17th August 1832.
After recording the details of their polite conversation – nothing out of the ordinary for two respectable ladies taking tea together – she switches to crypt hand to detail her inner thoughts. This is the moment that Anne began to wonder if Ann Walker could be a romantic prospect.
The coded section reads:
Thought I, 'she little dreams what is in my head – to make up to her - she has money and this might make up for rank'. We get on very well so far. And the thought as I returned amused and interested me.

© West Yorkshire Archive Service, Calderdale
In this entry from the 24th December 1832, Anne once again moves into code to record a private thought.
At this time, Anne was locked in a bitter rivalry with brothers Christopher and Jeremiah Rawson over the mining of coal on her estate. After recording the detail of a conversation in which she had laid out the terms of her lease in no uncertain terms to Jeremiah, she moved into code to express her satisfaction at having put him in his place.
This is what she writes:
Mr R said he was never beaten but by ladies and I had beaten him. Said I gravely 'is the intellectual part of us that makes a bargain, and that has no sex, or ought have none.'
Internationally significant
"At 5,000,000 words Anne Lister's diaries have been recognised by UNESCO as a document of international significance."
- Anne Choma, author of 'Gentleman Jack : The Real Anne Lister' - the official companion book to the BBC One series.
Learn more
Anne Lister's diaries – along with other items that belonged to her – are kept at the Calderdale Archives in Halifax.
Visit their website to find out more, and practice your mastery of Anne's code on high-resolution digitised scans of every page.