Main content
Antiques Roadshow is coming to MediaCityUK , Salford Quays on Thursday 30 August
What story will you bring?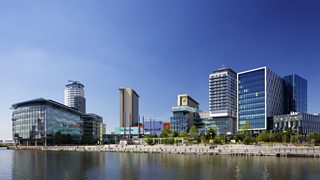 BBC One's Antiques Roadshow will be filming at MediaCityUK, Salford Quays on Thursday 30 August.
Fiona Bruce and the team of Antiques Roadshow experts will be waiting to welcome you, so dust off your family heirlooms and dig out those car boot bargains and bring them along for free advice and valuations to visitors.
Doors open at 9.30am and close at 5pm. Entry to the show is free, everyone is welcome, and no tickets or pre-registration is required. For parking arrangements please check our website.
Visitors are welcome to just turn up on the day but they can also share their stories about the special items they are bringing along using Share Your Story on the Antiques Roadshow website.
Alternatively, email: antiques.roadshow@bbc.co.uk or write to Antiques Roadshow, BBC, Whiteladies Road, Bristol BS8 2LR.
Travel and parking information
There is limited parking at the MediaCityUK site so please use the following public transport options to bring you straight to the site.
· East Didsbury Metrolink Park and Ride
· Oldham Mumps Park and Ride
· Rochdale Railway Station Metrolink Park and Ride
· AshtonWest Park and Ride
· Ashton Moss Metro link Park and Ride
Buses:
· Number 50 bus, East Didsbury – MediaCityUK
· Number 70 bus, Clifton Junction – MediaCityUK
We have a number of Blue Badge parking spaces at the Pitch car park - opposite Holiday Inn. Our parking stewards will direct you.
Parking in these spaces cannot be reserved and is on a first come basis.