Main content
The BBC Carleton Hobbs Bursary Award
What is the BBC Carleton Hobbs Bursary?
Named after one of Radio's most distinguished actors, the Carleton Hobbs initiative has been run by BBC Radio Drama every year since 1953, proudly reaching its 50th anniversary in 2003. Radio Drama's two radio acting awards (see Norman Beaton Fellowship) are brought together under (((soundstart))), Radio Drama's umbrella title for all its acting initiatives. (((soundstart))) was formally launched at London's National Theatre in July 2003, where, among starry company, we were delighted to welcome seven new actors to our Radio world - five Carleton Hobbs Bursary Award winners and two holders of the Norman Beaton Fellowship.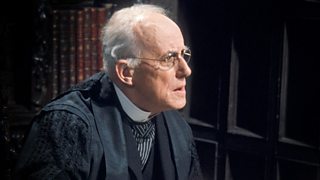 Carleton Hobbs
Radio Drama is particularly proud of its reputation for finding and encouraging those starting out on their professional actor lives. In its time, the competition has launched the careers of 184 outstanding graduating students. The Carleton Hobbs Bursary is aimed at students graduating from regular (or post-graduate) courses run by accredited drama schools across the country. Via the scheme, we look for distinctive, versatile radio voices to form a nucleus of new talent within the autumn season's Radio Drama Company. We believe that the Carleton Hobbs event offers a unique opportunity to new acting talent, and hope that it will continue to be important to schools and students alike.
The BBC Carleton Hobbs Bursary Award complements the work which the BBC invests across the board in new writing and directing talent. With a wider share of information across Drama Units in Radio and on Television, the focus on being part of a bi-media environment is strong.
Winning a Bursary is not so much about the chance of gaining a job and a regular pay-cheque, but the opportunity of extending the students' training in a unique acting environment - one where they'll work with the best actors and writers in the country on a wide range of contemporary and classic plays.
Who was Carleton Hobbs?
Carleton Percy Hobbs was born in 1898 . He was the son of a Major-General based in Hampshire. He himself served in the First World War after which he trained as an actor at RADA.
His first theatre engagement was in 1924 in LONDON LIFE. He joined the newly-formed BBC Drama Repertory Company in 1939 at the outbreak of World War II. He rapidly became a household name in what was considered the 'Golden Age' of Radio.
In his time he worked on over 4000 radio productions. Loved by his peers, he was affectionately known as 'Hobbo'. His most famous role was as 'Sherlock Holmes' whose first radio appearance was in 1952 for Children's Hour. By public demand, this moved to an adult slot where it ran for 17 years.
Hobbo was a radio actor exemplifying that "less is more": he could communicate a thinking feeling presence with very few words, and was famed for his use of silence.
He worked with film director Alfred Hitchcock, playing a small part in The 39 Steps.
On his death in 1978, the BBC's Student Acting Prize, founded in 1953, was renamed The BBC Carleton Hobbs Award to honour and commemorate one of Radio acting's first great stars.