Main content
Emily Watkins - Fish
What inspired your menu?
Both of my grandfathers served in the navy in WW2, I know they would be immensely proud of me.

Emily Watkins
As soon as I read the brief I was excited – there was so much which inspired me. People were so resourceful during the period and used absolutely everything, which I reflected by making my own butter and reserving the buttermilk for ice cream. They had to substitute rationed goods with more easily found ingredients, so I used potato in place of flour in my starter. Of course there's also the Normandy link from the D-Day landing itself which made me think of calvados, French rabbit (instead of the wild English) and brioche, which I used instead of ordinary bread in my lardy cake.
What research did you do?
I really enjoyed reading a lot of ration cookbooks as well as old newspaper and magazine compilations of recipes. The government had a special department promoting recipes based on the available produce. I also spoke to people in my village, including a gentleman called John Cooper who tended the family allotments and looked after their animals during the war. He talked very fondly about the time and his memories of going out foraging with his friends and the community coming together to barter goods on a field in the village.
How did it feel to win a place in the national finals?
Totally brilliant. I was shocked which I think you see! I had a rocky start in the competition as I get so nervous. It's not only very pressured in a strange kitchen but I get very conscious of my extremely talented competitors! And of course the judges who are about to very publicly try my cooking.
At every stage my confidence grew and I actually hugely enjoyed the finals. I had practiced my dishes more and knew that the judges must have enjoyed them to get that far!
How tough has the competition been?
It is quite hard to describe just how tough it is. There is so much at stake. It takes a lot of time to research the brief properly, test your dishes, source all of the presentation items and practice. In this industry it is difficult to get time off so it ends up coming out of family time.
On a personal note, particularly with such a special brief, I wanted to cook for the amazing war veterans who gave so much for us and our generation. Both of my grandfathers served in the navy in WW2, and although they have now passed away I know they would be immensely proud of me.
I also wanted to cook my very best for myself, our team back at our pub and also my family, particularly my husband and children who have supported me the whole way through the competition.
What was it like learning your dish would be served at the D-Day banquet?
Jaw-droppingly brilliant! I couldn't believe it. It took quite a long time to sink in. I kept thinking they might change their minds!
What did it mean to cook for the war veterans in St Paul's?
It was almost unreal - the honour of cooking at such a banquet in such a venue was immense, and also with such great chefs. The whole experience was brilliant from arriving to cooking and serving - even though there may have been a few stressful moments during the day itself!
St Paul's is staggeringly beautiful and with its history it was a fitting venue for the banquet. Ken and George, two D-Day veterans we all met several times, really boosted us along the way. They seemed to be enjoying themselves so much but were always slightly surprised that we were going to such an effort for them! They really didn't seem to realise quite how much they did for us.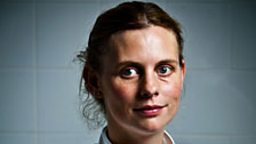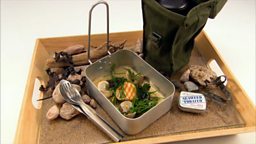 "Fight Them On The Beaches" - Grilled Scallops