Main content
Tortillas with Toasted Black Beans and Jalapeno Hummus
Warm Tortillas with Toasted Black Beans & Charred Jalapeno Hummus (Feeds Four)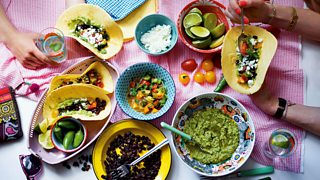 Photography: Tara Fisher
I always, always have a mass of cartons and cans of pulses and beans in my store cupboard. Whether it is the depths of winter and I am making baked beans or refried beans with eggs and warm tortillas, or I am throwing together light, healthy impromptu salads studded with lentils, chickpeas or beans in the height of summer, I find pulses an essential part of my cooking repertoire. They are deliciously nutty, richly filling and cost almost nothing. Of course, cooking any pulse from scratch does wonders for their flavour (see page 301), but in times of hurry, cans of pulses are a saviour. Here classic hummus is given a Mexican makeover, adding delicious, piquant heat. It makes a wonderful filling for the warm tortillas with the charred black beans and citrusy, sweet salad.

For the Tortillas

150g sweet cherry tomatoes
½ garlic clove, crushed with a little salt
Small handful of coriander leaves, roughly chopped, plus extra to serve
½ red chilli, finely chopped (optional)
Juice of 1-2 limes
2 tbsp extra-virgin olive oil
1 x 400g carton black beans, rinsed and drained
8 small corn tortillas or 4 large tortillas halved
Lime wedges, to serve
For the Hummus

1 jalapeno chilli and 1 picked jalapeno
1 x 400g can chickpeas, rinsed and drained
1 garlic clove
1 tbsp tahini
60ml extra-virgin olive oil
Juice of 1 lemon
Small bunch of coriander (leaves and stalks)
Prepare the tomato salsa first: finely chop and put into a mixing bowl with the garlic, herbs, chilli, if using, lime juice and oil. Season to taste, then set aside to marinate.

To make the hummus, put a dry frying pan over a medium-high heat and add the jalapeno chilli. Char all over, turning occasionally for 10 minutes until completely blackened. Leave to cool, then discard the stalk and seeds and transfer to a food processor or blender with the pickled jalapeno, chickpeas, garlic, tahini, oil, lemon juice and coriander. Blitz until coarse, then add 2-3 tbsp of cold water to loosen the dip, season to taste and blitz again until smooth.

Place a large, non-stock frying pan over a medium-high heat. Give the drained black beans a quick rub with kitchen paper to remove any excess water, then add to the hot pan and cook for 508 minutes, shaking the pan occasionally until the skins begin to split open and the beans crisp up. Season lightly, then transfer to a plate. Return the pan to the heat and warm up the tortillas, wrapping them in a tea towel to keep them warm (or you can warm a pile of them in the microwave, wrapped in cling film).

Put the hummus on the table and let everyone make their own tacos with the warm tortillas wrapped in a basket, toasted beans, hummus, tomato salsa and lime wedges. If you like, serve with Lancashire, feta or pecorino cheese to crumble over the top.

Kitchen Note:

Make a quesadilla by heating a flour tortilla in a pan, sprinkled with 60g grated Montery Jack or mature Cheddar. When melted, dollop on 3 tbsp Jalapeno Hummus (see above), 6 slices of picked jalapeno, half carrot shaved with a vegetable peeler and a handful of coriander. Season and roll up. Eat while the cheese is still oozing.
More Food on the BBC
Browse our selection of recipes from top chefs, cooks and food writers who have joined us on Woman's Hour...

Download this interview, or subscribe to the Cook the Perfect...downloads