Main content
"Fitness doesn't actually have a race or a body type."
There wasn't representation for me growing up. Not of young Black Scottish girls, not even of young Black British girls. Well, not ones who were painted in a positive light. There was Justine from Tracy Beaker, but we all know that she was the mean girl, the bully and that is the portrayal, the representation of young Black girls that I grew up with.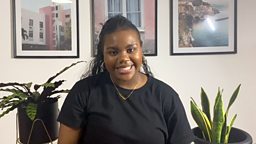 There especially wasn't representation of Black women in the fitness industry. Growing up was such an alienating time because I grew into my shape early and I was so different to the people in the place I grew up. On magazines that were promoting health and fitness were thin/slim white women. I didn't look like them. Not even a little, so when I grew hips, thighs and a bum much earlier than everyone else my age I thought I must be fat. I must be unhealthy because fitness and health were shown to be the complete opposite of me.
I always felt like the fat friend. When I look back at pictures, I definitely wasn't fat, but I wasn't a size 6/8 either. I really struggled to love my body. I would forge notes from my parents for PE (sorry mum and dad) because I didn't want to put my body on display, I didn't want to run and have my body jiggle, I didn't want to sweat and be deemed unfit in front of my friends. So, I sat out. For years I think because I didn't want to be the fat girl in PE, and I didn't want to draw that attention to myself.
When I started exercising in Uni it wasn't to benefit my body, it was to punish it. I wanted to be thin. I thought that's when I'll be happy in my body, when I'm skinny. There were days where all I'd eat was a bag of crunchy salad and pre-cooked chicken. Days where I would do cardio for hours because I'd had a pizza hut the night before and I wanted to be skinny, so I obviously needed to do hours of cardio to burn off that pizza. To fit in, I thought I needed to be skinny.
I really struggled to love my body. I would forge notes from my parents for PE (sorry mum and dad) because I didn't want to put my body on display
I feel so sorry for that Amanda. The things that she went through, the things she put her body through to 'fit' in, to be considered 'fit' and to fit into someone else's ideal body standard are upsetting for me to look back upon. I wish I could tell her that the things she hates about her body are the least interesting things about her, that she doesn't need a thigh gap because everyone online is raving about them and that her body structure most definitely will not allow one in a healthy and safe way.
My mindset completely changed when I started to see other girls that looked like me. Social media allowed me to find other people who had similar body shapes, who weren't necessarily a size 6/8. It allowed me to find other Black women who were confident in their bodies who inadvertently gave me representation. Who allowed me to see that I didn't need to aspire to be thin and white and I could just be myself. I could be Black, and I could be a little bigger than most girls and I could still be happy, healthy and fit.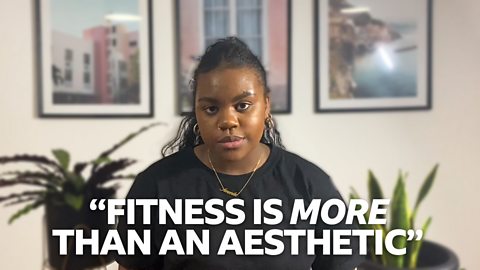 Amanda Calley spills the tea on the fitness industry and its lack of representation.
And so, with this representation I stopped thinking that fitness meant thinness. I stopped trying to do endless hours of cardio and started lifting weights. I stopped depriving myself of foods that I love and started eating a more balanced diet. I started exercising because it makes me feel good, because it has way more benefits than just changing how my body looks.
While the industry promotes a single standard for women to live up to, fitness doesn't actually have a race or a body type. Fitness can come in lots of different body shapes and looks.
Black and Asian women are the least physically active social group in the UK, representation is a very real barrier to these women entering these spaces because they feel exclusionary. You can't be what you can't see so it's hard for these women to feel like they fit in and belong in these spaces.
And that's why representation is so important. Because we all benefit from making fitness more inclusive. Because everyone deserves to know that they can lead a fit and healthy lifestyle no matter their size, race or ability level.