Main content
Judge Dredd at 40: How 2000AD created a sci-fi classic
15 February 2017
Epitomised by Judge Dredd, the merciless lawman of futuristic hell-hole, Mega-City One, 2000AD has dominated the British comic scene for 40 years. Self-confessed fan ROBERT MURPHY pays tribute to the visceral brilliance of a British sci-fi institution and its square-jawed hero.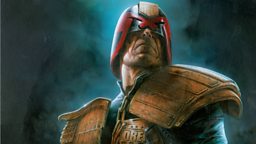 Judge Dredd is 2000AD's most famous creation. He appeared in the second issue of the comic in 1977 and has since become its longest-running character.
On 26 February 1977 a new weekly comic appeared in Britain's newsagents, vying for the attention of children who'd grown up on the Beano and graduated to stronger stuff such as Warlord. The cover promised readers the inevitable free gift – a plastic 'space spinner' – yet the stories inside offered something more substantial and daring. 2000AD had arrived.
Now celebrating its 40th year, 2000AD is Britain's longest running science-fiction comic and still delivers a heady mix of thrills, from mutant bounty hunters and wisecracking hit-men to vengeful gladiators and robotic knights. Yet its success took even its creators by surprise. "I thought it would last a couple of years at most", writer John Wagner admits.
If there is one story that embodies the essence of 2000AD, though, it's Judge Dredd
Taking its cue from the science-fiction and action films of the 70s, the writers and artists of 2000AD brought an imaginative, occasionally satirical, edge to their strips that continues to this day.
"Its roots are very strongly embedded in a punk attitude," original editor Pat Mills reflects. "All the stories had that potential to be subversive from the beginning."
In Flesh, a strip that made its debut in the first issue and is still written by Mills today, time-travelling cowboys hunt dinosaurs for their meat, beaming it back to feed the hungry masses in the 23rd century.
If there is one story that embodies the essence of 2000AD, though, it's Judge Dredd – the heavily armed 'Lawman of the Future' who acts as judge, jury and executioner on the mean streets of Mega-City One, a dystopian vision of a future American metropolis. "It's a comedy, it's a horror, it's a drama and it's a police procedural," artist PJ Holden explains.
The crime-ridden city, with its impossibly vast high-rises, chronic unemployment and violent citizens, has always offered rich pickings for storytellers seeking to parody the preoccupations of the day.
"Dredd's world can be ridiculous," Holden laughs. "You're dealing with characters that are two tons in size or compete to be the ugliest looking person in Mega-City One."
In one story, the citizens elected an orangutan as their mayor. "They give the citizens the vote and the citizens do stupid things with it," jokes Jason Kingsley, owner of 2000AD's parent company, Rebellion. "If you ask the people what they want… they want Dave the Orangutan."
The character of Dredd, grim-faced beneath the helmet that he never removes, has become a reassuring constant in this chaotic world.
It was Spanish artist Carlos Ezquerra who breathed life into Dredd with his startling design for the lawman's uniform
Devised by Pat Mills and John Wagner, it was Spanish artist Carlos Ezquerra who breathed life into Dredd with his startling design for the lawman's uniform with its badge and zips and imperial eagle that had just a hint of dictator chic about it.
Originally conceived as an anti-hero in the Dirty Harry mould, Dredd has become a little more nuanced over the years. "He's got a bit more soul," Wagner concedes, "but he's pretty much the same old bastard."
At 2000AD's 40th anniversary event in a central London hotel, fans dressed in meticulously detailed 'Dredd' costumes mingle with readers of all ages, many of whom have queued for hours for a signature or sketch from their favourite writers and artists. As they take to the stage to talk about their careers, Mills, Wagner and Ezquerra are feted like rock stars.
The overriding impression is of the great warmth with which 2000AD is held by everyone present. "I'm a little younger than the comic by about half a year," writer Al Ewing says, "but over the years it sort of grew up a little bit as I was becoming a teenager, it grew up alongside me. It sounds a bit corny but we're all here to celebrate the fortieth birthday of an old friend."
While the mass-market comics business of the late 70s might have long since vanished, 2000AD has endured, thanks in part to a constantly changing roster of stories and talent. Many of the biggest names in the comics business, from Alan Moore to Neil Gaiman, got their start on what is affectionately known as 'the Prog.'
2000AD's anthology format, with its quick hits of action and cliff-hangers, almost seems tailor made for the shorter attention span of today's media consumer. Yet in a hotel suite bustling with costumed characters and fans clutching colourful volumes, there's also the unmistakable glow of nostalgia.
"I remember buying the first issue from the newsagent by the chip shop," owner Jason Kingsely recalls. "I think the space spinner ended up on my gran's roof."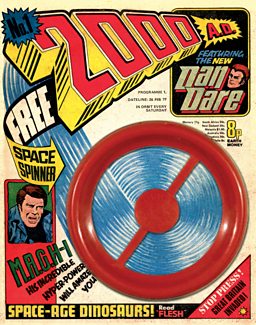 The first ever edition of 2000AD, 26 February 1977. Image courtesy of 2000AD/Rebellion.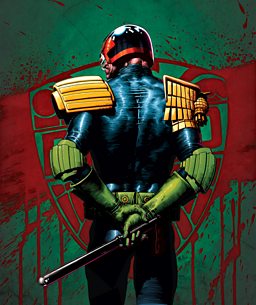 "I am the law!" Transcending his print origins, Judge Dredd has also found his way to the cinema in two films and featured in several computer games. Image courtesy of 2000AD/Rebellion.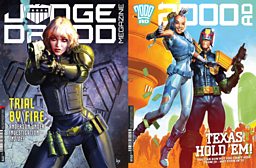 The Judge Dredd Megazine began in 1990 as a monthly spin-off to 2000AD. It focused on stories set in the fictional, dystopian metropolis Mega-City One. Image courtesy of 2000AD/Rebellion.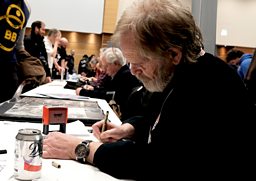 Signing autographs for 2000AD fans, Spanish artist Carlos Ezquerra designed Judge Dredd in 1977. Photo courtesy of 2000AD/Rebellion.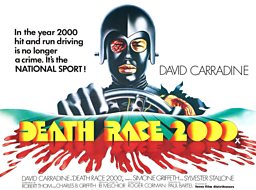 2000AD artist Carlos Ezquerra drew inspiration from the 1975 film Death Race 2000 for Judge Dredd's aesthetic. David Carradine's black-clad, helmet-wearing character, Frankenstein, provided the prototype.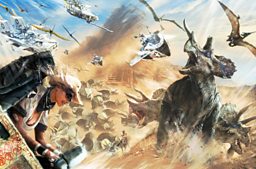 Created by Pat Mills, the 2000AD comic strip Flesh is set in an age where cowboys time travel to harvest the meat from dinosaurs. Image courtesy of 2000AD/Rebellion.