Main content
Q&A: Louis Theroux on making My Scientology Movie
6 November 2017
From his Weird Weekend series to taking on a powerful religious organisation, Louis Theroux has never been afraid of difficult subjects. In a 50 minute Q&A, the Grierson Trustee Award winner discusses the challenges of making his latest project, My Scientology Movie.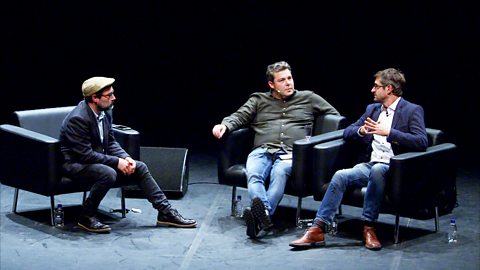 Adam Buxton hosts a 50 minute interview with Louis Theroux and director, John Dower.
The controversial Church of Scientology always seemed like a natural subject for a Louis Theroux documentary.
With Hollywood A-Listers such as Tom Cruise and John Travolta counted as members, and claims by former adherents of abuse, Scientology has 'Louis Theroux' written all over it.
The filmmaker had tried, with no success, since 2003 to gain access to church members in order to make a documentary. Despite the release of other films about Scientology – most notably Alex Gibney's in-depth, award-winning Going Clear – Theroux persevered and changed tack.
The approach settled upon by Theroux and director John Dower was to use actors to re-stage controversial procedures that former Scientologists claimed the church used on members. To help them in this task they sought the guidance of a high level insider in the form of ex-Church of Scientology senior executive, Marty Rathbun.
Featuring a star turn by actor Andrew Perez portraying David Miscavige, Scientology's leader, the re-enactments of the church's practices lends a fresh perspective on the organisation to add to the mix of other recent studies.
In their 50 minute Q&A session at the Royal Festival Hall (above), Theroux and Dower discuss the process of getting the film made and the strategic surveillance, resistance, and hostility they encountered from the church while attempting to make the documentary.
Extract from My Scientology Movie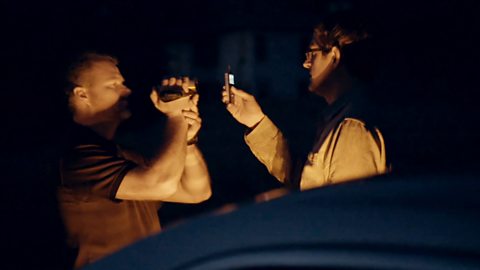 Louis Theroux gets on the wrong side of Scientologists. From My Scientology Movie
Watch on BBC iPlayer
Louis Theroux is in America to interview members of the Church of Scientology - but they do not want to speak with him.