Main content
Out of the blue
Here's the second of 64 Million Artists' weekly challenges, and we're turning the air blue - or red, orange, yellow, green, indigo and violet. Colour is central to this week's theme, whether you have 20 minutes, one hour or half day to spare, you'll find an activity to DO, THINK ABOUT, and SHARE.
Don't be red-faced if you're not an expert and no-one is green with envy of your work. We'll be tickled pink that you're having a go. Ok, that's enough puns from us now.
27 February: Looking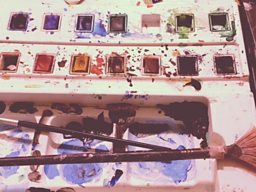 The theme this week is about looking. We're focussing on noticing what's around us and making stuff out of it. Remember it's about having a go, not being an expert.
| 20 Minutes | One hour | Half day |
| --- | --- | --- |
| Try to spot all the colours of the rainbow in the order that they appear – red to violet. Photograph them, make a collage or draw where you saw them. Or just make a note of where they were. | Spend time looking around where you are, out of a window, on a train, wherever you happen to be. Then spend time drawing, painting, collaging it. It doesn't have to be an exact represention. | Pack paper and whatever you want to draw with and go on a journey to somewhere you want to sit. Look at what's around you, the colours, people, objects and buildings. When you get where you want to go or when you get home, draw or make something that reflects your journey |
When you've finished upload your images to the 64 Million Artists website or share them with your friends on social media with the tag #BBCGetCreative.
We'll showcase some of them here over the coming week.
Ideas to help you Get Creative