Main content
New Horizons 12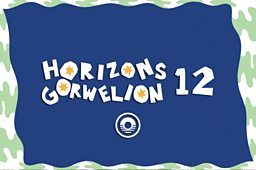 New Horizons 12
A dreamy indie-pop band whose music has appeared on Black Mirror and Made in Chelsea, an electro teenage pop artist, a live rock, rap and reggae group, a jazz singer, a dance producer and one of the fastest banjo players in Wales.
These are just a taste of the 12 Welsh artists chosen by industry experts who will benefit from the Horizons project, which has seen bands perform at UK and international festivals and record songs at the world-famous studios, Rockfield and Maida Vale. The artists have been announced at an event attended by industry experts at the iconic music venue Clwb Ifor Bach, Cardiff.
To celebrate the announcement, Welsh artist Cadi Lane was commissioned to create an art installation featuring each band to hang above Womanby Street, Cardiff, widely considered as the heart of south Wales' live music scene.
Horizons, a project delivered annually by BBC Cymru Wales in partnership with Arts Council of Wales, is designed to support the development of new, independent contemporary music in Wales. A selection of 12 bands and musicians each year are chosen by experts to become part of the project, where they will receive guidance and support in crafting careers in the music industry.
The new Horizons 12 are (alphabetically):
· Codewalkers – a rock, rap and reggae five-piece from Cardiff. The band was formed in 2016 when brothers Ben Dabson, a producer, and Dafydd Dabson, a guitarist, recruited vocalist Sean Babatola, bassist Chay Lockyer and drummer Aled Lloyd to enhance their sound.
· Darren Eedens & the Slim Pickin's – often referred to as "The Dirty Little Picker" on tour, Darren Eedens originally hails from Canada but now calls Cardiff home. His Slim Pickin's include Welsh speaker Rhys Morgan on bass, Edd Clemas on drums and David Grubb on fiddle, and the band joins Horizons after their debut album release earlier this year.
· Endaf – a producer hailing from Caernarfon who blends neo-soul vocals with garage and deep house, Endaf released his debut EP in 2016 and is the founder of Bangor club night High Grade Grooves.
· Esther – a jazz vocalist and DJ, Esther can regularly be found gigging Cardiff's indie circuit and will appear as part of the Red Bull Polyrhythm tour this summer.
· Eve Goodman – inspired by the likes of Joni Mitchell and Suzanne Vega, this Felinheli based singer-songwriter was awarded a month-long artist residency in a 'creative caravan' (Y CARNafan) in Caernarfon last year, where she met with locals and turned their stories into songs. Eve sings in Welsh and English.
· Gwilym – indie-rockers from Caernarfon and Anglesey, north Wales, Gwilym were headliners at the recent Dydd Miwsig Cymru (Welsh Language Music Day) and bagged five awards at the Gwobrau'r Selar Welsh language music awards in 2019.
· HANA2k – a self-proclaimed 'pink-pop' artist citing Britney Spears and Kanye West as influencers. HANA2K's single 'Pretty Enough' was dubbed "nothing short of brilliant" by critics on its release last year.
· Jack Perrett – a Newport-based singer-songwriter who has drawn comparisons with Oasis and The Stone Roses. Perrett's debut album 'What You Saying?' received critical acclaim in the UK and received radio play in America and Australia. He heads to the Isle of White festival soon with This Feeling.
· Kidsmoke – a band making waves from Wrexham with their dreamy indie-pop, with appearances at FOCUS Wales, SXSW in Austin, Texas and features on the Netflix series 'Black Mirror' and E4's 'Made in Chelsea' under their belt already.
· Rosehip Teahouse – a 'sparkly bedroom' pop outfit, Rosehip Teahouse have a new vinyl single on the way and a UK summer tour booked which will see them play The Moon in Cardiff on 12 July.
· SERA – inspired by an upbringing in Carenarfon, between the ethereal Snowdonia Mountains and the Irish sea, SERA is a bilingual singer-songwriter with an album and tour on the horizon for 2019. Her songs are in Welsh and English.
· Y Cledrau – an indie-rock four piece from Bala Y Cledrau's Welsh language debut album 'Peiriant Ateb' drew praise from BBC Radio 6 Music. The band are set to play the TAFWYL festival at Cardiff Castle this summer. Y Cledrau perform in Welsh.
Bethan Elfyn, BBC Radio Wales and Radio Cymru presenter and project manager of Horizons said: "It's such a privilege to reveal which artists have made it onto the project this year. The list includes some immensely talented creatives, producing stunning music across a variety of genres. We get hundreds of applications each year and it's always very tough to narrow them down to 12, but it's fair to say this is a golden age of Welsh music right now."
Over the next year, the Horizons 12 will be offered opportunities to play at a number of festivals and record radio sessions. Bethan Elfyn and her team will work with the artists to promote their music, support their development and raise their profile in Wales and beyond.
Huw Stephens, BBC Radio 1 presenter said: "This is a massively exciting time for music from Wales. Take Boy Azooga as one example, who have just been announced as part of a festival line-up with Bob Dylan and Neil Young. Alffa, the north Wales rock duo on Horizons last year, were the band who wrote 'Gwenwyn', the first Welsh language track to pass 3 million plays on Spotify.
"I think that this is testament that music fans around the world are not only listening to music coming from Wales, but people are actually seeking it out. It's a bit of a 'watch this space moment' for Welsh music. I'm sure that the Horizons tracks will be making their way into people's favourite playlists before the year is out, and I know I'll be playing my favourites on the radio."