Main content
Are smartphones the future of filmmaking?
20 February 2019
Steven Soderbergh's basketball drama High Flying Bird is the latest feature film to be shot entirely on an iPhone. As hand-held technology grows ever more powerful, TOM CHURCHILL asks if we're seeing the start of a seismic shift in the movie industry.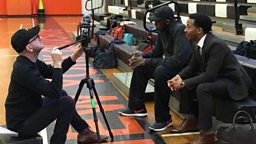 Steven Soderbergh uses an iPhone on the set of High Flying Bird, with and Bill Duke and André Holland | Photo © Netflix
High Flying Bird, a micro-budget drama about a sports agent taking on the establishment, isn't the first movie to be shot entirely on smartphones. It's not even the first Steven Soderbergh movie to be shot entirely on smartphones - his 2018 psychological horror Unsane was made the same way.

But it does mark a significant step towards mainstream acceptance for a practice that has, until recently, been seen as a gimmick that's unlikely to challenge the conventions of Hollywood.
It's one of the most liberating experiences that I've ever had as a filmmaker

Steven Soderbergh
Soderbergh shot to fame in 1989 with Sex, Lies and Videotape and since then has juggled blockbuster hits (the Ocean's Eleven series, Magic Mike) with more experimental fare (Contagion, Side Effects) and TV drama (The Knick, The Girlfriend Experience).
As a longstanding champion of digital photography, in the past two years he has become the highest-profile advocate of smartphones for serious filmmaking.
"I think this is the future," he declared at Sundance last year while promoting Unsane, which he shot in two weeks for just $1.5 million using the iPhone 7 Plus. "I look at this as potentially one of the most liberating experiences that I've ever had as a filmmaker."
For High Flying Bird, released through Netflix to critical acclaim earlier this month, the budget was upped to $2m - still minuscule by Hollywood standards, where blockbuster Black Panther weighed in at $200m and even a 'low-budget' film like The Favourite cost $15m - and Soderbergh pushed the iPhone even further, using wide-angle lenses and capturing lengthy hand-held tracking shots.
Discussing the film on the Bill Simmons Podcast in January, Soderbergh said: "If I had a traditional camera package […] the film I think would not have been any better. It might have been worse. It certainly would have taken longer." He's not wrong about the last point. A tweet from Soderbergh's 'secret' account reveals the first cut was completed less than three hours after filming wrapped.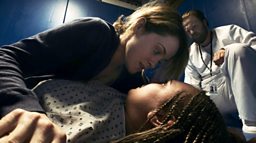 Claire Foy, Juno Temple and Joshua Leonard in Unsane | Photo: AF archive/Alamy Stock Photo
After the release of Apple's iPhone 4 - the first model to shoot HD video - in 2010, tech-savvy, budget-conscious filmmakers were quick to tap into its potential. Thanks to dedicated add-on lenses and apps such as FiLMiC Pro - as well as each new iteration of the iPhone improving on the last - these tiny devices were increasingly capable of rivalling large cameras that cost far more.
The iPhone itself does have a certain aesthetic that was unnerving

Joshua Leonard on Unsane
And while current technological limitations mean there is still a particular 'look' associated with smartphone footage - they perform less well in low-light conditions, and tend to put the entire frame into unnaturally sharp focus - this can be used to creative effect.
Actor Joshua Leonard, who starred in Unsane alongside Claire Foy, told The Ringer: "The iPhone itself does have a certain aesthetic that was unnerving. The profound depth of field that you get in every shot, where every single piece of the frame is in focus, made for an uncomfortable experience in a way that I think served [Unsane] quite well.
"To me, the technology hasn't advanced to the point where an iPhone movie won't look like an iPhone movie. I think anybody using the iPhone technology right now will be integrating that aesthetic that the phone gives into their movie."
For Soderbergh, the advantages outweigh any limitations. "What's great about the iPhone is I can put it anywhere," he says. "Literally, I can Velcro it to a ceiling, I can do whatever I want, and that's very liberating."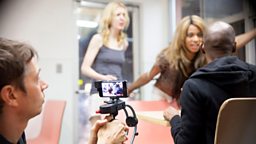 Sean Baker filming Mickey O'Hagan and Kitana Kiki Rodriguez with the iPhone 5S on the set of Tangerine, 2015 | Photo: TCD/Prod.DB/Alamy Stock Photo
Sean Baker, whose acclaimed iPhone-shot film Tangerine, about a transgender prostitute hunting her cheating boyfriend-pimp, marked a major breakthrough for the technology, has also highlighted its advantages over traditional cameras.
To me it's more about using this device to catch candid moments

Sean Baker
He told Fast Company: "While [the iPhone] has helped me become more mobile, no pun intended - running around, finding tight areas and different ways of moving the camera - to me it's more about using this device to catch candid moments. That's the biggest thing. Because nobody takes the iPhone as seriously as a regular camera, so they have lowered inhibitions."
While we're not yet at the point where an iPhone-shot movie isn't a newsworthy story in itself, the technology is rapidly closing the gap to conventional setups, and it seems inevitable that phone footage will be used more and more in the coming years - particularly in documentaries, where its unobtrusive size and ease of use offer obvious advantages.
But as well as allowing established directors to experiment with new techniques and work with lower budgets, perhaps the most important contribution of the smartphone is the way it has opened up the art of filmmaking to anyone with a phone, a laptop and an imagination. As Soderbergh says: "You really don't need much more than what's in your pocket and some software, and off you go."
High Flying Bird is available on Netflix now.
More film from BBC Arts
When documentary-makers recreate true stories, it can have an incredibly powerful impact.

The black actors, directors and producers who paved the way for the current generation.