Main content
The Secret Life of Your Clothes
By Andy Wells - Producer Director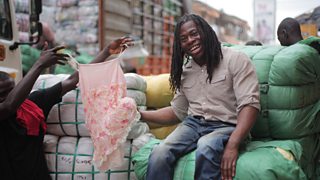 Every day thousands of people in the UK donate their old clothes to charity. And like many of us I assumed they ended up on the rails of high street charity shops and were bought by people searching for a bargain. Scouring second hand shops was routine during my student days, fuelled by a lack of money and a desire to dress like Morrissey.
There are still bargain hunters out there searching for designer labels and vintage gems but it appears our appetite for other people's cast offs is on the wane. Which is not surprising when you can buy brand new clothes on the high street so cheaply now. In Britain we spend more than £60 billion on clothes every year. Even though I've now stopped trying to dress like Morrissey, I must confess that I buy more clothes than I need, or can possibly wear. And I'm not alone. The average British woman purchases an astonishing 68 new garments and seven new pairs of shoes every year.
But if people in Britain are no longer buying cast offs where do all our old clothes end up? My filming began at a recycling depot in the Midlands. There are hundreds of these depots around the country and from the outside they look like any other building you would find on an industrial estate. Only they are full of our old clothes. Lots and lots of them. Whilst we were filming a steady stream of trucks laden with charity shop bags arrived one after the other. Once unloaded the clothes are sorted and bundled up into bales, sold by weight to foreign buyers and then exported.
One country takes more of our cast offs than any other, Ghana in West Africa and that's where our trail really started. We arrived in the capital Accra. Every three days shipping containers packed full with our used clothing arrive and are unloaded at Accra's wholesale market. It's a mesmerising sight - the sheer scale of the operation is staggering. The surrounding streets and warehouses are piled high with thousands of bales of used clothing from Europe and North America, fuelling a whole industry of traders, porters and food sellers. This is where we met Eric, a wholesaler who regularly visits the UK on buying trips and who imports clothes from recycling companies based in Leeds, Coventry and Birmingham. Almost all of the trousers and shirts he imports have been donated to British charities.
Traveling from the grey skies of Britain in winter to the vibrancy and beauty of Ghana was a filmmakers dream. But it's also one of the worst places for disabled facilities and our presenter was paralympian basketball player Ade Adepitan. Taking a wheelchair into markets teeming with people was always going to be challenging. Taking a film crew in as well to follow Ade and record pieces to camera along the way even more so. We got through it and that was down to the determination of Ade to make the sequences work and cameraman Justin Evans who made it look effortless with his beautiful images. All obstacles and barriers were quite literally overcome through their tenacity.
Most people we met were eager to talk about the trade that people in Ghana call obroni wawu, or dead white man's clothes. It provides many Ghanaians with a living and it helps clothe some of the poorest people in the world. At the same time some blame it for the collapse of Ghana's own garments industry and say it's undermining the country's culture.
From the capital we travelled north to Kumasi where many of the clothes end up in West Africa's biggest market. From here we drove further into the interior along dirt roads to some of the country's remotest and poorest regions. By now our old clothes had been bought and sold many times over as they passed further along the chain. Finally we met Diner, a young woman selling clothes to support her family, as she walked towards a tiny village called Gyen Gyen. Here we watched as she set up stall and sold clothes from Marks and Spencers, Dorothy Perkins and Next for as little as 25 pence each. Ade summed it up best when he said he " I could be on any high street in the UK but I'm not, we're in a small village in North East Ghana."
Second hand clothes have had a presence in Ghana for a long time. They first arrived with European missionaries who gave them away for free in the 50s and 60s. But somewhere along the line the trade in used clothing turned into a billion pound industry and that business is being driven by our own addiction to cheap, disposable fashion.