Main content
7 Glastonbury debuts that blew us away
With over 100 live sets to choose from there's plenty of amazing Glastonbury history to watch on BBC iPlayer as part of The Glastonbury Experience. To help you navigate the treasure trove of performances on offer we've put together a series of articles to guide you.
Here, we take a look at some of the artists who made an immediate impact with their Glastonbury debuts.
2019 may well go down as the summer of Billie Eilish as the emerging pop sensation brought tracks from her debut album When We All Fall Asleep, Where Do We Go? to a string of UK festivals, drawing huge and ecstatic crowds. Glastonbury was no exception, where she owned the Other Stage with her electric presence.
Metallica had to wait over 30 years to be asked to perform at Glastonbury so it was only right that when the invite came it was to top the Pyramid Stage in 2014. At a time in their career when the band had ticked almost every other achievement possible, the thrash metal titans came to Worthy Farm to ask one simple question: "Do you want heavy?" The answer was a resounding yes.
Christine and the Queens (2016)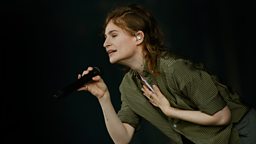 Having been launched to the attention of UK music lovers earlier the same year with breakthrough single Tilted the french performer brought their hypnotic show to Worthy Farm for the first time for a spellbinding set on the Other Stage.
IDLES vocalist Joe Talbot summed it up during his band's debut Glastonbury appearance on the Park Stage in 2019 "we've waited 12 years to be here". The band made sure the wait was worthwhile, performing a blistering set.
The New Zealand pop star grabbed one of Glastonbury's most coveted slots for her debut performance, playing the Other Stage as the sun went down and night crept over Worthy Farm. Lorde made the most of it, producing a captivating set that ended with a euphoric version of Green Light.
Stepping in at the last minute to take a place on the John Peel Stage, it would have been fair to expect some nerves from the Dublin band on their debut Glastonbury appearance but they showed none at all as they took the stage by storm, further enhancing their burgeoning reputation as ones to watch.
Obviously everyone remembers Dave's debut Glastonbury performance for the viral moment it sparked - if you were living under a rock in 2019, we're talking about Alex From Glasto of course. But the Streatham MC's set was stunning from start to finish, from the club bop of Location to the vital Black to UK rap's first number one, Funky Friday.
Watch the Glastonbury Experience
All the ways that you can keep up with the Glasto action.

Get those highlighters at the ready and find out when your favourite artists are on.

Take a look at all of the different sets and tracks available as part of the Glastonbury experience.

Head to BBC Sounds for archive performances, specially curated mixes and Glastonbury DJ sets.