Main content
Deadliest Day: How one patrol in Afghanistan still haunts British soldiers ten years on
How do you handle losing your best mates in a violent attack? Ten years ago, five men died in the deadliest patrol of the British army's war in Afghanistan. Two more from the same platoon have died since coming home.
In a special series for the Beyond Today podcast, Claire Read investigates how the trauma of that day has hit the young soldiers who lived through it and the people they left behind.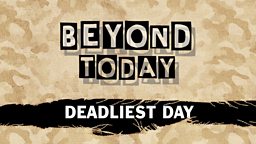 Dust and bodies flew into the air and the bang could be heard back at base. It was the second explosion in the space of an hour and the surviving members of 9 Platoon looked back as the earth settled. They couldn't see who had been killed.
"It weren't a nice picture," says former Rifleman Matthew Ramdeen. "It's still with me today, how it was: basically just a massive crater in the ground."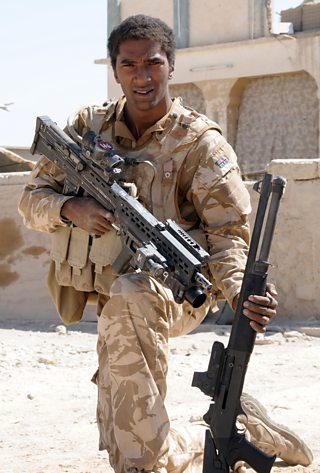 Former rifleman Matthew Ramdeen
It was 10 July 2009 and it turned out to be the deadliest day in what was the British Army's worst year of losses in their 13-year campaign in Afghanistan.
"It was like, what just happened?" Matthew told the Beyond Today podcast. "Literally, look around and see bodies everywhere."
That day, five members of 9 Platoon, C Company, 2 Rifles lost their lives. A series of Improvised Explosive Devices, or IEDs, detonated during an early morning foot patrol, near the patrol base in Wishtan, in Sangin, Helmand province.
Since then, two more of the platoon have died.
It's ten years on and the soldiers who survived, and the families left behind, still feel the impact of that morning in Helmand.
Matthew Ramdeen suffered from hypervigilance and flashbacks and then, two years after his Afghan tour, anger flared up. He was treated for post-traumatic stress disorder, or PTSD through a veterans charity. He says he doesn't have those symptoms anymore, but he can recall in minute detail everything that happened on "that day".
Others in his platoon haven't been so lucky.
Shellshocked
Kevin Holt was one of the platoon's Vallon men – he carried the metal detector at the front of the patrol, searching for IEDs.
His family told Beyond Today that he changed completely after Afghanistan.
"He didn't come home," says his younger sister Jessica Percival. "We worried about him a lot. He got mad. But then five minutes later, he'd be all right again and he'd forget what he'd done. I dunno, it's weird. You don't actually know what PTSD is till you're actually living with someone that's got it. It's horrible."
His mum, Shirley Holt, says Kevin used to smash up the kitchen sometimes, and then not remember what he'd done. Kevin's friends told us he used to throw his phone against the wall on a regular basis and break it.
But his sister says when he was in a good mood, he was hilarious.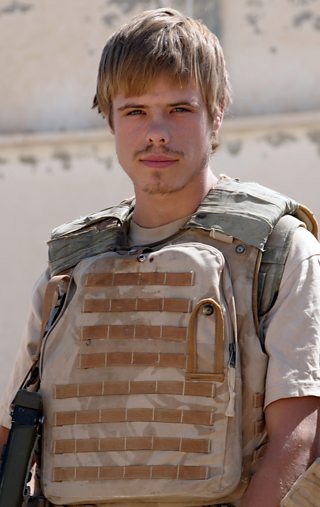 Former rifleman Kevin Holt who died in July 2018
"He used to sing to himself. He thought he was amazing – absolutely the best thing since sliced bread. He used to take more selfies than anyone I've ever met in my life. "
Kevin sought help from several different charities and the NHS but none of the treatments seemed to work for him. He used to say he didn't like talking.
He died of a morphine overdose on 13 July 2018, nine years after his time in Helmand. He was suffering from stage 4 testicular cancer at the time.
Kevin was the second member of the platoon to die since their return from the conflict in Helmand. The first was Allan Arnold. He hanged himself in 2011.
But Kevin's family are sure he didn't take his own life.
"We know he didn't do anything to himself," his sister Jess tells me. "No matter how bad he was feeling he wouldn't have ever done that."
And at an inquest into his death earlier this year, a coroner ruled he died by misadventure.
Kevin Holt was already traumatised by a month-long tour in Iraq. He suffered from symptoms of PTSD as soon as he returned from Afghanistan.
He confessed to his best friend from the platoon, Peter Sherlock, that he'd tried to take his own life shortly after they got back.
Guilt
Peter and Kevin became very close after their Afghan tour. They both lost a best friend on 10 July 2009. But while Kevin was out on the patrol, Peter was stuck inside the base, being treated for heatstroke.
He still feels guilty about missing it – and not knowing who took his place.
"That's the thing that plays on me the most – not being there and not knowing. And that still gets to me. Not every day, all day. But there's always a point that I think about it, and what would have been different."
Peter told the Beyond Today podcast that he had a rough patch when he got home from Afghanistan. He drank a lot and had nightmares. But his parents supported him and found him a job; now, ten years later, he runs his own business.
Delayed trauma
But symptoms of PTSD can take a long time to appear. Caroline Bull was a medic with C Company, 2 Rifles and she was stationed with 9 Platoon in Wishtan in July 2009.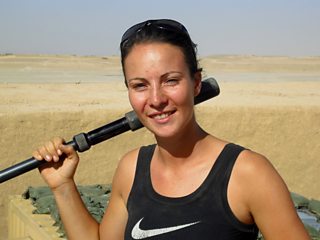 Former army medic Caroline Bull
She was a reserve, and after the tour she got on with living a successful civilian life.
"I was pretty hyped that I'd kind of got to the stage where I was doing well," she says. "City job, good salary, nice life, husband, dog, you know, all the things that you think add up to what is a pretty good existence.
"But actually, underneath all of that I had this whole other thing going on."
Caroline was suffering from anxiety and two years ago – a full eight years after her time in Afghanistan – she was diagnosed with PTSD. She hasn't been able to work since.
But she has had treatment and she is making plans to change career and reduce her stress levels at work.
Support
The Ministry of Defence has increased its funding for mental health support in the past year, to £22 million annually.
But veterans have told the BBC they worry that not enough is being done. Given that symptoms of PTSD can take up to 15 years or more to appear, this is an issue that is only going to get bigger.

This article is based on extracts from the Beyond Today podcast's new special series Deadliest Day, presented by Claire Read and produced by Heidi Pett.