Main content
The best moments from LOL-a-thon 2019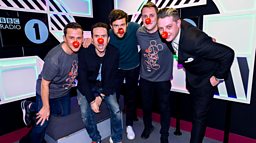 Scott Mills and Chris Stark were on air for an incredible 27 hours, broadcasting nothing but lols for Radio 1's LOL-a-thon.
With the help of some very special guests, they've tickled the nation's funny bone for over an entire day, raising over £320,000 in donations!
They've had LOLs with David Beckham, Ricky Gervais and Jack Whitehall; they've visited 10 Downing Street; and they've expected the weird delirium that you'd expect from presenters staying up for over 24 hours.
And they've had a lot of help from you, the listeners, who've been sending your funniest jokes.
Here's the best bits from Radio 1's LOL-a-thon: