Main content
6 of the most surreal Radio 1 interviews of all time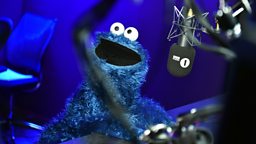 There's never a dull day at Radio 1, but some days are just WAY less dull than others. We decided it was time to round up the most fabulously weird and surreal Radio 1 interviews ever...
1. Charlie Puth singing his answers
Last week Charlie Puth swung by Scott's studio for a chinwag but, instead of delivering his answers the old-fashioned way (y'know, just by speaking them), Charlie responded via the jazzy medium of song. Song! And guess what? It was ace! Can we make this a regular feature, plz?
EDM star Marshmello is one of those DJs who doesn't reveal his identity, or speak. In fact, he's never been seen without his giant marshmallow helmet on. So it was a bit of a tricky prospect for Scott Mills when he came in for a chat about his new track Silence, featuring Khalid.
But they made it work! And the results, as the team typed out his answers and turned them into funny voices, were pretty hilarious...
3. Joe Lycett and the Live Lounge month artists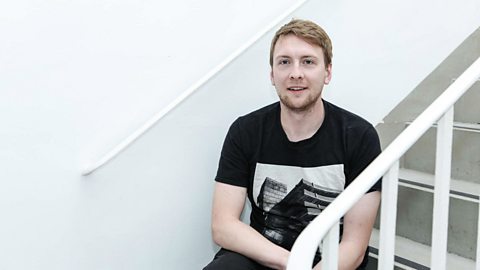 Chris Martin was not expecting to be asked about where he keeps his documents.
During the epic musical bonanza that was Live Lounge Month, Joe Lycett tweeted Grimmy with a few slightly more leftfield questions to ask the performers - and the results were hilarious. Taken off guard, many of the stars replied with brilliant honesty.
And now we know that Chris Martin is VERY lackadaisical with his document filing!
4. Cookie Monster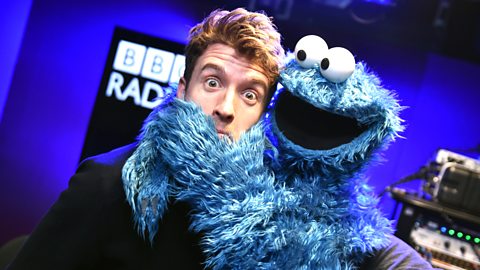 Break out the hoover - the Cookie Monster is Greg's special guest!
Creating levels of excitement that may never be topped in the Radio 1 studios, Greg James had that tasty treat loving Sesame Street star Cookie Monster in for an interview.
We particularly loved hearing him chat ALL about biscuits with 6-year-old Seth. All those crumbs on the studio floor were more than worth it.
Greg James dubbed Elmo his "favourite guest ever" and, to be honest, we totally get it. The combination of Greg, Elmo, Grover, sports tracksuits and Carly Rae Jepsen is a recipe for sweet success and, yup, surrealness.
When they weren't belting their tiny puppet hearts out to Call Me Maybe, Elmo and Grover were giving Greg solid life advice ("you need to get out more!") and getting seriously excited over the prospect of Olympic swag. (It all makes more sense when you watch it. Sort of.)
6. Alan Sugar, AKA the world's most unenthusiastic guest
Unimpressed and unamused: two words that you could almost certainly attribute to a certain Lord Sugar during his chat with a certain Greg James. On second thoughts, can it be called a chat if only one person is doing all the talking and the other is staring into space, lamenting the life choices that made this moment happen? We're not so sure.
A far cry from the joviality of Cookie Monster, Elmo, Grover et al, Alan and his no-nonsense attitude ensured Greg's job was made slightly harder but the interview is all the greater for it. Good job, guys. Your chemistry is off the charts.