Main content
BBC Proms Youth Ensemble
As part of its ongoing commitment to nurturing new talent, the BBC Proms founded the BBC Proms Youth Ensemble in 2015. The project offers talented young musicians the chance to participate for free in innovative performances, while developing their skills alongside professional musicians.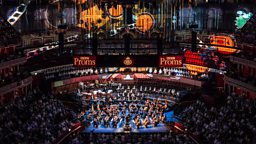 What is the BBC Proms Youth Ensemble?

The BBC Proms Youth Ensemble is a flexible ensemble of young musicians who participate in a bespoke project each summer in preparation for a performance at the Proms.

The BBC Proms Youth Ensemble brings together talented young musicians from all over the UK and we work with music services and youth music organisations to reach young people who might not otherwise have the opportunity to work with professional musicians and perform at this level.

This year, we are excited to be inviting up to 34 talented young musicians to join the 2019 ensemble and perform at a Late Night Prom on 10 September 2019. This year's ensemble will be part of a new commission by a well-known artist (full details to be announced at the Proms Launch on 17 April). The Proms Youth Ensemble will be performing alongside the BBC National Orchestra of Wales.
What will the 2019 BBC Proms Youth Ensemble project involve?

In preparation for the performance, the Proms Youth Ensemble will work with a team of professional musicians, developing their performance skills and exploring the new composition, before joining the BBC National Orchestra of Wales.

Applicants will need to be available for rehearsals on the following dates:

2 June 2019, Cardiff: Workshop day
10 August 2019, Cardiff: Rehearsal day
7-9 Sep 2019, Cardiff: Rehearsal day
10 Sep 2019, London: General Rehearsal and Prom
Who can join the 2019 BBC Proms Youth Ensemble?

We are looking for up to 34 musicians aged 16 to 25 from across the UK who are playing at a Grade 8 standard (or equivalent) or above in the following instruments:

Violin

Viola

Cello

Double Bass

The project involves playing new music, so we are looking for talented and enthusiastic musicians who will rise to the challenge! This isn't a competition and we're particularly keen to reach young people from all backgrounds who show promise but might not have had this kind of opportunity to perform with professional musicians.
How can I apply for the 2019 BBC Proms Youth Ensemble?

To apply to be involved in the BBC Proms Youth Ensemble 2019, please submit the following to Dropbox no later than 5pm on 18 March.

A completed application form in English: download here, A completed application form in Welsh: download here
A video of you playing a short extract - as below.

3. A video of you playing c. 1 minute of a piece of your choice (this doesn't need to be accompanied)

You should upload your application form and videos to our Dropbox account via the relevant link below. Please make sure to name your video and form files in this format: Full name-instrument (e.g. Joe Bloggs - Violin).This is to ensure we can identify your application.

Violin: upload here

Viola: upload here

Cello: upload here

Bass: upload here

The BBC uses Dropbox because it is a secure file sharing service. Please don't submit using another service or by email as this may not be secure and the file might be too large to send via email. If you experience any technical problems please don't worry; just get in touch with us at getinvolved@bbc.co.uk.
What is the selection process?

Applications will be considered by the BBC Proms team and professional musicians who are taking part in the Proms Youth Ensemble project. We'll notify you by Tuesday 9 April if you have been successful. Please note due to the high volume of interest we will not be able to offer feedback to unsuccessful applicants.

If you require any more information or assistance to make your application please don't hesitate to get in touch by emailing getinvolved@bbc.co.uk.
I work with young musicians: how can I get them involved?

We're keen to work with our partners as much as possible to find the right musicians for this opportunity, so please help us spread the word by sharing this information. Applicants are asked to provide a referee and short reference along with their application, which provides a chance for you to nominate and show support to any young musicians who you think would really benefit from the experience.
Get in touch

If you have any questions, please don't hesitate to contact the Proms Learning team at getinvolved@bbc.co.uk.
Hear the Proms Youth Ensemble
Expect everything from avant-garde Minimalism to rock and funk in this 30th-birthday concert by American music pioneers Bang on a Can, who perform works by Louis Andriessen, Philip Glass and others alongside a world premiere by Michael Gordon.