Main content
BBC Proms Youth Ensemble
As part of its ongoing commitment to nurturing new talent, the BBC Proms founded the BBC Proms Youth Ensemble in 2015. The project offers talented young musicians the chance to participate for free in innovative performances, while developing their skills alongside professional musicians.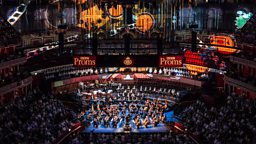 Hear the Proms Youth Ensemble
Expect everything from avant-garde Minimalism to rock and funk in this 30th-birthday concert by American music pioneers Bang on a Can, who perform works by Louis Andriessen, Philip Glass and others alongside a world premiere by Michael Gordon.