Main content
10 things we learned from Christopher Nolan's Desert Island Discs
Award-winning director Christopher Nolan's first feature film had a shoestring budget of just £3,000. He has since gone on to create world-famous blockbusters such as The Dark Knight Trilogy, Interstellar and Dunkirk and is now one of the highest-grossing directors in history.
Here are ten things we learned from his Desert Island Discs…
1. He always tries to show his audience something new
Christopher believes that, when shooting a film, "the challenge is always to give the audience a fresh experience, to make them... newly appreciate the feeling of having the screen open up and take you into another world." He says that as a director, "one of the weapons in your arsenal is to find a way to give a fresh spin on the familiar."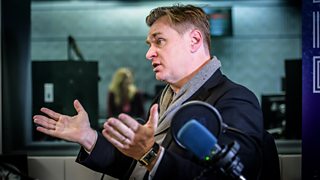 Christopher Nolan: "You're looking for honest feedback without an agenda." Photo: Amanda Benson / BBC.
2. He'd love to direct a Bond film but not yet
The Bond films have been "a huge source of inspiration" to him. Forced to address the swirling rumours that he will direct the next Bond film, he replies "categorically" that he won't. But he does confess, "I'd love to make a Bond film at some point… They don't particularly need me but I've always been very inspired by the films and would love to do one someday."
3. He writes scripts with his brother, and his films are produced by his wife
Christopher often co-writes scripts with his brother and his wife, Emma Thomas, is his long-term producer. He explains how working with the same people, and particularly family, is about an ease of communication and "surrounding yourself with the people who understand and support what it is you're trying to do, but are unafraid to criticise… You're looking for honest feedback without an agenda." He knows that, with family, the "only agenda there is making the best film possible."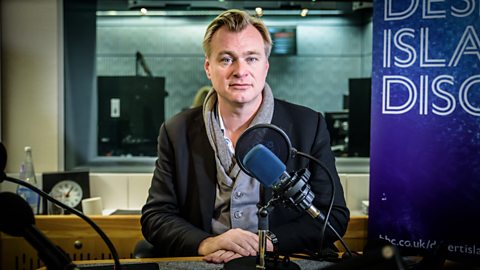 Christopher Nolan, film director, on being a 007 fan.
4. He once hand delivered a script to Michael Caine, and then asked for it back
Christopher admits that Michael Caine "was a little surprised" when the director turned up on his doorstep with a film script – and then asked for it to be handed back a couple of hours later. The reason? They keep tight control of a script to protect the privacy of the film: "Batman Begins was the first film where we really felt the need because there was such interest from the fan base for that character and you don't want your work judged prematurely." Luckily, the actor was "very gracious about it and quite amused by the whole process."
5. He was just seven years old when he started shooting films
Christopher recalls how his parents were very encouraging of his filmmaking: "I started very, very young. I was seven years old and my dad lent me his Super 8 camera." He's realised, looking back, that it was an expensive bit of kit to hand a seven-year-old, "and indeed, in my teenage years I did manage to destroy that camera by strapping it to the bottom of a car."
6. He still shoots on film
The filmmaker has "always felt very lucky to be really the last of the Super 8 generation" because it has informed his work and career. He hasn't made the transition to filming digitally, but still chooses to shoot on film: "It's the way I've always worked and I have a tremendous passion for it and as it's come under increasing threat in recent years it's something that myself and other filmmakers like me have had to really fight for." He is a huge advocate for the medium: "In terms of what's the best tool for storytelling, what's the most evocative tool, I don't think film has ever been bettered."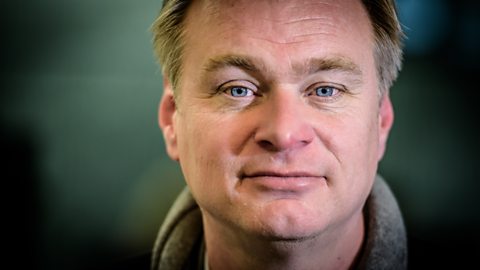 Christopher Nolan on choosing analogue over digital.
7. He believes that being organised gives him creative freedom
Christopher has a reputation for being fantastically well prepared, and often coming in under budget on a film. He doesn't think that creativity inevitably brings with it a degree of chaos but that, in his case, being organised gives him more freedom to be creative, not less: "Emma and myself, we sort of pride ourselves on being as efficient as we can. If I am on budget and on schedule nobody has any reason to scrutinise what it is I'm doing – and I don't want to give them a reason to – and that's worked very well for me in terms of my creative freedom."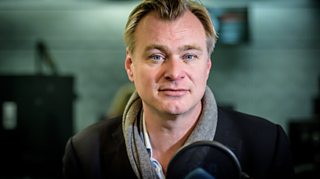 Christopher Nolan: "The challenge is always to give the audience a fresh experience." Photo: Amanda Benson / BBC.
8. Chariots of Fire was one of the first soundtracks he ever owned
Christopher's fourth piece of music is Five Circles from Vangelis's soundtrack to Chariots of Fire, which he describes as a "remarkable piece of film score". He has vivid memories of listening to it on a cassette as a child and praying for extra battery life: "When I was away at boarding school, you know, after lights out, you'd sort of sneak out your Walkman and hope you had enough batteries to run the album… you'd put the batteries on the radiator and see if you could re-energise them a bit."
9. Getting to work with David Bowie is one of his proudest boasts
Christopher's fifth choice is Loving the Alien by David Bowie, who played the inventor Nikola Tesla in Nolan's film The Prestige. "It's one of my proudest boasts that I got to work with David Bowie. If I could go back in time and tell my 16-year-old self that I would ever get to meet him, let alone work with him, I think my head would have exploded."
10. He believes in love at first sight
Christopher met his wife, Emma, on their first day in the halls of residence at University College London, which he confesses was a bit like a "meet cute" in a Hollywood movie. Although they didn't actually speak that first day, but just remember noticing each other – he ultimately concluded years later, "I've come to believe in the concept of love at first sight because I realise it actually happened to me."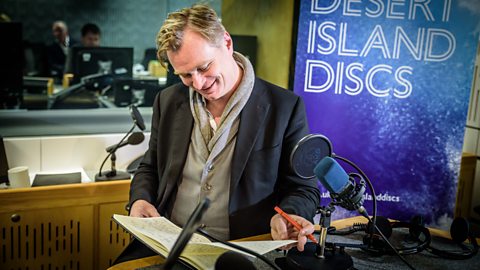 Christopher Nolan, film director, on working with Al Pacino.
Christopher Nolan, film director, is interviewed by Kirsty Young for Desert Island Discs.
More Desert Island Discs
Some of the finest screen stars and famous filmmakers to appear on Desert Island Discs.

Featuring Alfred Hitchcock, Nicole Kidman and Whoopi Goldberg.