Main content
Imagine you're in a lift with your mother-in-law — why this unusual expert advice can help women suffering in silence
Elaine Miller is on a mission to help women who suffer from stress incontinence.
It's a common condition that affects one in three women at some point during their lives, although many will be too embarrassed to get help. However, in most cases, stress incontinence can be remedied by exercise.

And as Elaine, a physiotherapist and comedian, revealed on Cradle to Grave, doing these exercises just three times a day for three months can be enough to sort the problem. All you need is a little imagination and some prompting from Elaine herself...
Elaine's advice for a perfect pelvic floor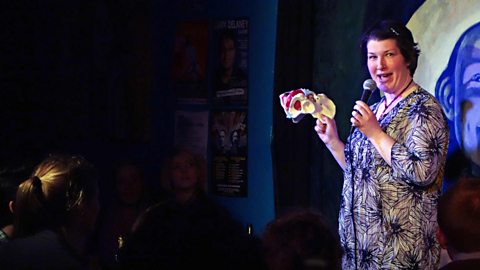 "We won't pee with a 10-10-3" Elaine Miller reminds us how to engage our pelvic floor.
What is stress incontinence?
Stress incontinence is the leaking of urine when the bladder is under pressure, such as during laughing, coughing or sneezing.
It often manifests after pregnancy, although obesity, aging, or a family history of incontinence can also be a cause.
A 2012 study found that 86% of those with the condition could be cured by physiotherapy.
Dealing with an embarrassing issue
The programme in full
Dr Margaret McCartney explores what we need from the NHS at different stages of our lives and what we can do to ease the pressures it's facing.
More useful advice
Mark Slack, Head of Urogynaecology at Addenbrooke's Hospital in Cambridge on the symptoms, causes and treatments for urinary incontinence.
Latest features from BBC Scotland
An ancient manuscript reveals some curious advice.

Clever about Cash returns with advice for the home.

The Scot faces a punishing regime before meeting Jack Catterall.

The Style Fixers share their tips for customising a plain pair of shoes.

Chloe and Bert the boar shed light on the industry.

Alfie's carers decide whether he is strong enough to receive treatment.

Why a Scots family opened their home to refugees.

Pilots, cabin crew and passengers remember this national treasure.

Why Highland games are crying out for home-grown talent.

Nikki Hardy has a world record and a new husband thanks to the US rapper.

Advice from the Scottish SPCA on dealing with an accident.