Main content
Five incredible underwater artists
The sea has captured our imagination for centuries, but some artists have taken this one step further, embracing its potential to push the boundaries of their minds, bodies and artistic process. These artists work underwater, happy to brave treacherous currents, face fearsome creatures and even forego breathing for the sake of their craft. In Pursuit of Beauty: Art Beneath the Waves, Emma Critchley meets dancers, sculptors and painters who feel constrained by the comforts of dry land. We've plumbed the murky depths to discover how and why these five submerged creatives make the sea their studio.
Emma Critchley meets the artists working in the water.
Jason deCaires Taylor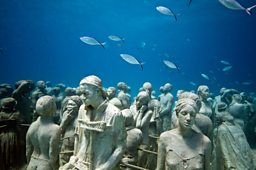 Image credit: www.underwatersculpture.com / #jasondecairestaylor
The British sculptor Jason deCaires Taylor anchors hundreds of life-sized concrete statues to the seafloor. He invites visitors to put on a tank and dive down to explore a seabed museum containing vignettes of faceless figures taking selfies, a line of bankers with their heads in the sand and a circle of cement children holding hands. Taylor's work creates an eerily beautiful effect akin to stumbling across a scene that's been frozen in time.
In the azure waters of the Caribbean and the Canaries, fish swim amongst statues that Taylor has handed over permanently to the sea, faces morphed by a palette of corals that give the sculptures a life of their own. Each and every statue is moulded from a real person from the local community. Hunting for people to cast, Jason frequently trawls the streets and social media, foregoing classically slim models with perfect skin, as pock-marked, wrinkled faces attract more marine life and heavier bodies are more able to withstand the forces of the sea.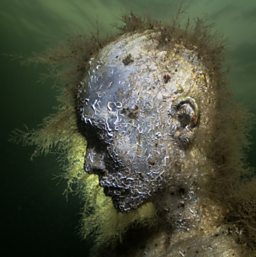 Image credit: www.underwatersculpture.com / #jasondecairestaylor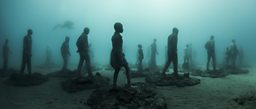 Image credit: www.underwatersculpture.com / #jasondecairestaylor
Olly Williams and Suzi Winstanley
Obsession with documenting the fragile animal world has taken artists Olly and Suzi into some of the most extreme and inhospitable seas on the planet.
These artists dive with leopard seals and great white sharks, don drysuits to brave sub-zero temperatures and overcome seasickness and numb hands, all before they start the physical art-making. Drawing underwater, they emerge to roll out their paper on an iceberg or deck of a ship, capturing what they call "ground truth," their experience of encountering wildlife in its natural habitat.
Amazingly, Suzi is terrified of the water (she wouldn't even get into a swimming pool if she had the choice), but says her laser-like focus on capturing each encounter distracts her from this fear of the deep.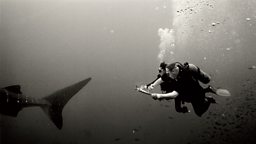 Image credit: @gregwilliamsphotography
Julie Gautier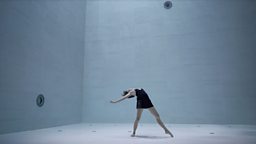 Image credit: Guillaume Nery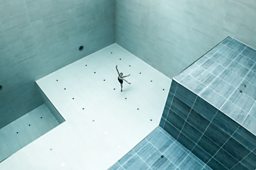 Image credit: Guillaume Nery
Born in the Reunion Islands to a spear fisherman and a dancer, Gautier is a filmmaker and freediver whose fantastical films are all made without an air tank in sight. A figure silently free-falls into an eternal abyss, a man runs fantastically along the underside of the water's surface, a couple get married in a dreamlike wedding scene on the sea bed, all captured by Gautier's lens.
In her film AMA, Gautier gracefully dances on the floor of the world's deepest swimming pool. Through crystal-clear waters, her moves are poetic and seemingly effortless. She dances without a hint of air, despite her sunken stage being many metres below the surface.
For Gautier, working without diving equipment brings total freedom. Never having to pull out her regulator to communicate with her team, or stop work as someone's tank runs out of air, means she only has to break when the sun sets or her body is exhausted.
Peter Matthews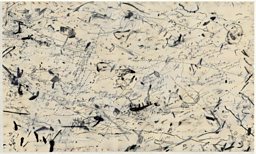 8 Hours In and With the Pacific Ocean by Peter Matthews
Travelling all around the world, Peter Matthews spends up to 11 hours a day drawing while swimming in the ocean.
Matthews nails paper onto a piece of old plywood, gathers his favourite pens and submerses himself and his paper beneath the waves. Treading water, he enters a trance like state, his breathing mirroring the sea. Hours later Matthews finds he has a drawing, a stream of consciousness, inky lines drawn in blues and blacks, words scattered across the page.
Matthews plans carefully for this feat of endurance, eating nuts and fruit and preparing a fire on the beach for when he gets out of the water. But the seas are unpredictable and harsh; Jellyfish, rip tides and storms are a regular part of his artistic life.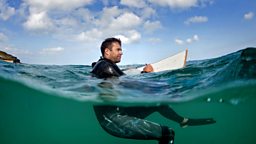 Image credit: Greg Martin/Cornwall Live
Estabrak Al-Ansari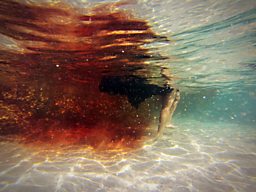 Raiya by Estabrak Al-Ansari
The Iraqi-blooded, Iranian-born and London-raised visual artist Estabrak Al-Ansari works in Oman, photographing headless, anonymous bodies wrapped in swathes of clothing. Her photographs explore social and political issues, the underwater world acting as a calm and safe space to tell her stories.
Al-Ansari shoots without a viewfinder, freeing herself of the constraints she has on land and responding instinctively to the light and movement beneath the surface.
More from Seriously...
The home of quirky, curious and seriously interesting documentaries and articles.