Main content
Personal finance: Sarah Pennells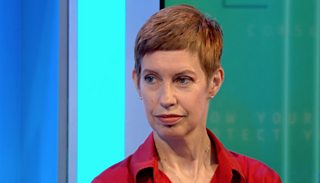 Personal finance expert Sarah Pennells offers her advice on some of your problems.
Sarah cast her expert eye over viewer's questions about insurance, smart meters and helps one viewer who is looking for a refund.
Fenglang from Taunton took out home insurance with a cashback provider and was promised £65 cashback, but it never arrived - even after she contacted the company. Will she ever see her money?

This is a straightforward case of the company not delivering what it has promised. I'd advise Fenglang to make a formal complaint and to give the company eight weeks to pay up. If they don't, she should complain to the Financial Ombudsman Service.
Catherine wants to know why her house premium has tripled from £250 to £635 in just 4 years. She has never made a claim.

We keep saying on the programme that loyalty doesn't pay, and Catherine's insurance company shows why. In simple terms, Catherine's insurer is charging her more because they think they can get away with it.

I would recommend that she shops around – either using a price comparison site or an insurance broker, who will find the best policy for her. If she uses a price comparison site, it's important to make sure she's getting the same or similar cover.
Samuel from Warrington says that a second hand car dealer sold him a broken vehicle that's not safe to drive. But the dealer is ignoring his complaints. What can he do?

If you buy a second-hand car from a dealer – rather than a private seller – you have the same rights as if you bought it new. The only difference is that it can be harder to show that a fault was there when you bought it, rather than as a result of wear and tear. However, if it's less than 30 days since he bought the car, he can reject it and ask for his money back.

If it's longer than 30 days but less than six months, it's down to the dealer to show the fault wasn't there when Samuel bought the car. The dealer should give Samuel a partial refund or repair. If the dealer is ignoring his requests for a refund, he has several options.

If the dealer is covered by an ombudsman scheme, he can escalate his complaint there. Otherwise, Samuel can take the dealer to court via the small claims court procedure. If he paid the deposit by credit card or is paying on a hire purchase finance agreement, he can contact them.

If he paid the deposit by credit card, then under Section 75 of the Consumer Credit Act, the card company is jointly liable for the whole cost, not just the deposit. If he paid via a hire purchase agreement, the hire purchase company owns the car until he's paid for it. He should say he's rejecting the car (if it's within 30 days) and that he will stop payments.
Rebecca from Manchester's bought some new dresses online. These were lost in the post when she returned them to the online retailer. Royal Mail says her parcel isn't traceable. Is there anything she do?

Under the Consumer Contracts Regulations, Rebecca is entitled to a refund within 14 days of the returned items arriving, or you providing proof of postage – whichever comes first. It's actually the seller's responsibility to make sure goods are returned safely, not yours.

As long as you've done everything the company asked you to (such as using the returns label supplied and getting a receipt), you should get your money refunded. If you don't, ask your credit or debit card provider to do a 'chargeback'. This is essentially a reversal of the purchase.
Carol is trying to buy the freehold of her property – but the freeholder is being unreasonable and making it very difficult. How can she speed up the process?

Without knowing more about the type of property you live in and how much of a delay there's been, I can't give a fuller answer.

However, there is a government-funded organisation called the Leasehold Advisory Service, which can offer free advice on buying out your freehold. You can find them at lease-advice.org