Main content
Challenge yourself to be creative this January
6 January 2016
64 Million Artists has the perfect antidote to those January blues. For the second year they are running the January Challenge - a fun and free set of 31 daily creative challenges delivered each morning to your inbox.
Every day in January you will be sent a short creative challenge that will take no longer than 20 minutes to complete. They are designed to fit into your day and bring it to life, making you more aware of your surroundings, introducing you to new places and people, and generally helping you to get a bit more creative in your everyday.
To sign up visit the 64 Million Artists website. Here is a selection of some of the challenges that have already been completed.
Day One - Draw a picture of how you'd like your 2016 to be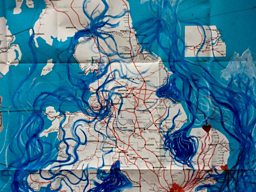 Titled 'Map of my/our future 2016', Bridget says this is an emotional map representing the places I love and of family connection, and the swirling forces of the rising seas.
Day Two - Make a sculpture out of your recycling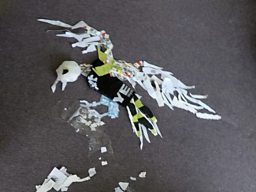 Scales and Feathers by Anke. "The piece may be saying something about consumerism. Maybe not."
About 64 Million Artists
A campaign to unlock the creativity of everyone in Britain, each week 64 Million Artists sets you things to do to help you get creative.
It uses a simple, fun and free process: Do, Think and Share. Sign up for its regular Friday challenge. Whether you have 20 minutes, one hour or a half day to spare, you'll find an activity to suit you.
Day Four - Write a list of things that you would like to tell your eight-year-old self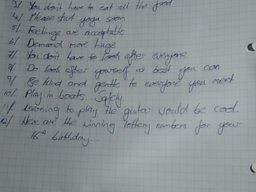 Advice to my 8-year-old self by Ben
In 2016 I'll get creative by...