Main content
8 things we discovered about Niall Horan from his interview with Grimmy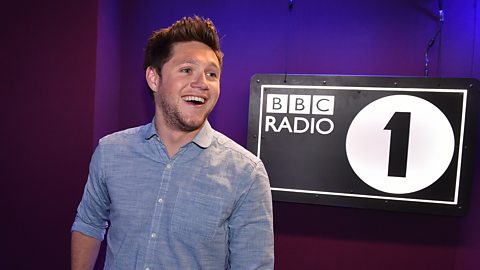 And it's uncanny... Grimmy also thinks Olly makes the perfect sidekick for Niall.
Singing, song-writing, Shawn Mendes and a seriously secretive One Direction email chain; Niall Horan dropped by Grimmy's gaffe (OK, studio) to give us the low-down on what he's up to. You'll be able to hear the full exclusive interview on Friday morning at 7am, but here are some of our favourite moments...
1. Everyone tells him his new 'do makes him look more mature.
In case you didn't notice, his beachy blonde locks are no more and in their place is a bountiful head of brunette hair. According to Niall his new look has received quite the reaction, with everyone telling him he looks more mature since binning the bleach.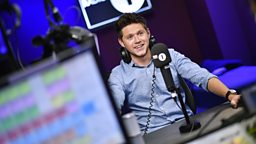 2. He first heard Harry's new song on the radio.
That's right: Niall first listened to Harry Styles' new song on the radio, just like the rest of us mere mortals. And he had a lot to say about it.
3. He swam with sharks in the Bahamas.
Really. After much deliberation (twenty minutes, to be precise) he took the literal plunge and swam with sharks. Ever wondered what a shark feels like? Wonder no more: "They feel like sandpaper… they're all a bit sloppy. It's a bit weird but yeah, they're sharks and they're still scary." Sloppy sandpaper - got it. He also snorkelled and swam every day. In short, he's a total water baby. He's basically part merman. You heard it here first.
4. A One Direction email chain EXISTS!
Yup, the guys are all looped in on what is probably (definitely) the only email chain in the world that we'd happily be a part of. Do they sign off with a kiss? Do they have personalised signatures? Does any sneaky BCC'ing occur? WHAT DO THEY EMAIL ABOUT?! So many questions, so many of them (thankfully) answered.
5. He does a REALLY good Olly Murs impression.
We're actually not entirely convinced Olly wasn't sat in on the interview, that's how good it is. Educate your ears, stat.
6. He's also great at making prank calls
Meet 'Dave', Niall's Londoner alter-ego.
He does a surprisingly brilliant accent when Grimmy got Niall to phone Niall impersonator 'Liam' - he even got the poor lad to sing the chorus of his song, This Town.
7. A Shawn Mendes collab might be happening.
A Niall Horan and Shawn Mendes collab sounds pretty sweet, right? You'll be happy to know that it's not off the cards. When will it be happening exactly? He spilled the beans to Grimmy.
8. He wrote his favourite song while watching the footie.
He wrote his favourite song off the much-anticipated album while… sat on his sofa, watching a Man United game. We kid you not.