Main content
1957 Submission Letter for Go Set a Watchman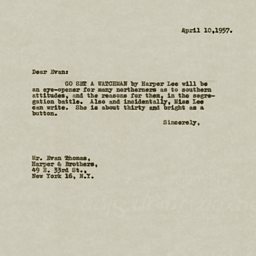 A submission letter for Go Set a Watchman written in April 1957 by Harper Lee's agent Maurice Crain.
The text reads as follows:
Dear Evan,
GO SET A WATCHMAN by Harper Lee will be an eye-opener for many northerners as to southern attitudes, and the reasons for them, in the segragation battle. Also and incidentally, Miss Lee can write. She is about thirty and bright as a button.