Main content
10: Somos una piña
We are a tribe
Charlie, Quique and Sofía talk about their own families and about the people in Teresa's family who live all over the world. Teresa then tells a story about an alien, Cho, who comes to Earth and Uncle Manu sings about his own close-knit family. Key vocabulary includes family members and expressions using the verb tener. Pronunciation includes focus on the s / z sound.
Dual transcript / translation for Clips 37 - 40 (pdf) including links to the online audio clips
Clip 37: La familia de Teresa
Teresa's family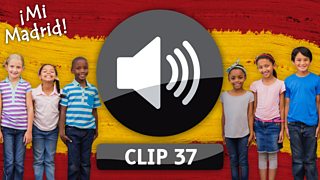 At Quique's house, Quique and Sofía tell Charlie about Teresa's family who are from Mexico and live all over the world. Charlie asks Quique and Sofía to describe their family, and then she talks about her own.
Clip duration: 04 30
Clip 38: Cuento - Familias de otro mundo
Story - Families from another world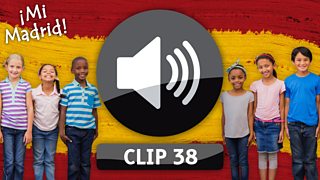 Cho is an inquisitive alien who decides one day to travel to Earth to find out about human families. He finds himself in a Madrid park where he meets lots of people and concludes there's no such thing as a typical human family!
Clip duration: 04 08
Themes, Vocab and Grammar
| Themes and vocabulary | Grammar and pronunciation |
| --- | --- |
| describing your family | members of the family in Spanish |
| expressing how you feel | forming expressions with 'tener' |
| showing possession in Spanish | changing family words from masculine to feminine |
| - | focus on pronunciation - s / z |
Clip 39: El español en todo el mundo
Spanish all over the world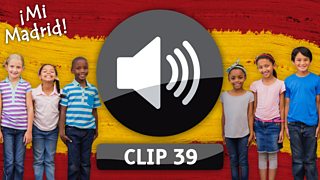 Quique and Sofía explain to Charlie how to use the verb tener in Spanish. They also discuss that Spanish is spoken in other parts of the world, sometimes with a different accent.
Clip duration: 04 20
Key vocabulary 1
| Spanish | English |
| --- | --- |
| abuelo | grandfather |
| abuela | grandmother |
| madre | mother |
| padre | father |
| padres | parents |
| hermano | brother |
| hermana | sister |
Clip 40: Canción - Mi familia es una piña
Song - My family is a tribe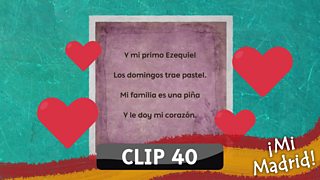 Uncle Manu sings about his close-knit family.
Clip duration: 02 12
Key vocabulary 2
| Spanish | English |
| --- | --- |
| hijo | son |
| hija | daughter |
| primo | (boy) cousin |
| prima | (girl) cousin |
| sobrino | nephew |
| sobrina | niece |
| gemelos (m.pl) | twins (identical) |