Main content
Can poetry really change your life?
National Poetry Day founder explains how
7 October 2015
Philanthropist, entrepreneur and publisher William Sieghart founded National Poetry Day in 1994 as an annual, nationwide celebration. Since its inception it has engaged millions of people across the country, if not the world: reading, writing and listening to poetry.
This years theme is Light and activities include the digital project 'Make Like A Poet' which encourages people to make creative responses, some of which will be included on Blackpool illuminations.
Here William Sieghart shared with Get Creative his thoughts on how and why poetry can change your life.
Poetry gives the nation the words it lacks
The British are not renowned for their public displays of emotion. But poetry seems somehow to be able to surpass that barrier: it is our outlet for public expression.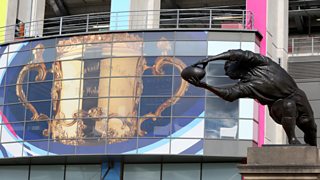 When we mourn the dead of wars, we turn to Laurence Binyon's 'For the Fallen' and promise 'At the going down of the sun and in the morning / We will remember them'.
When we celebrate at a sporting event, for example, at the Rugby World Cup, the stands will resonate with the words of William Blake's poem 'And did those feet in ancient time' better known as 'Jerusalem' or at Anfield with Oscar Hammerstein's words, 'You'll never walk alone'.
Poetry is essential to articulate public grief and public joy.
It helps you feel what others feel
"you have to understand, / no one puts their children in a boat / unless the water is safer than the land."
These lines by the Somali-British poet Warsan Shire have been all over the internet lately, even featuring in a charity single for the refugee crisis being read by Benedict Cumberbatch. But why?
Poetry seems to have a unique ability to help people understand each other as people, not as headlines or statistics.
In a recent interview, the Forward Prize winning poet Claudia Rankine said on reading Paul Celan that "even as I read about the Holocaust and had seen films about the Holocaust, suddenly this poet was able to put me in a place where I could feel the aloneness as something both terrifying and recognisable".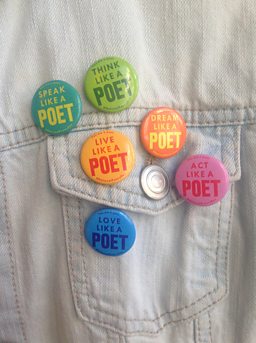 © Anthony Burrill, courtesy of Thirteen Ways and The Space
It's consoling
During his 27 years in prison on Robben Island, Nelson Mandela is said to have found solace in William Ernest Henley's poem 'Invictus' with its famous last lines "I am the master of my fate, I am the captain of my soul".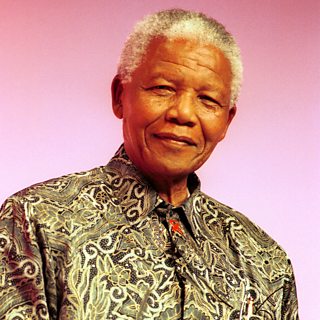 Poetry, with its music and heightened diction, has the power to provide expression to our most powerful emotions, and comfort in times of need.
Last World Book Night, the Forward Arts Foundation and the Jerwood Charitable Foundation gave out 12,500 poetry anthologies to homeless shelters, prisons, and mental health trusts.
Simon Phillips, a basic skills tutor at St Mungo's Broadway, said: "When you read a poem like Frost's The Road Not Taken with a group, they see their whole lives in it. They all find different meanings."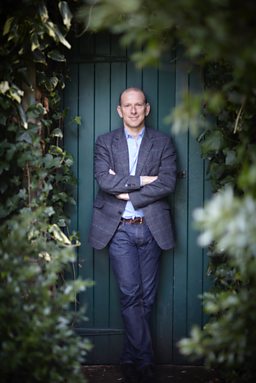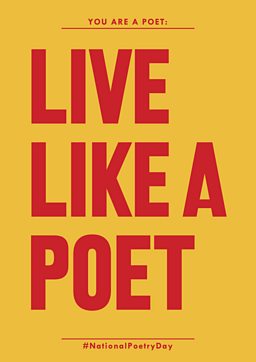 A message from National Poetry Day
© Anthony Burrill, courtesy Thirteen Ways and The Space
Spells and prayers and mantras are poetry: the divine prefers poetry to prose
Some of the greatest poetry is to be found in The Bible, in spirituals, in mantras and prayers of all languages. We turn to the rhythmical spoken word when reaching towards the sacred.
The neume, the 9th Century system of 'waves' inscribed above plainchants that directed the pitch of the chanting monks, is thought to be the precursor of modern musical notation.
The poet Michael Donaghy reckoned poetry could also be traced back to those same religious roots, in the neume.
Poetry makes you feel more alive
Scientists at Liverpool University have found that reading the works of Shakespeare and Wordsworth has a "beneficial effect on the mind, catches the reader's attention and triggers moments of self-reflection".
Dame Judi Dench famously learns one new poem a day to keep her mind active. The words of Philip Davis, a professor who worked on the study, suggest that she's right: "Serious literature acts like a rocket-booster to the brain."
Poetry helps children learn and play and laugh
From nursery rhymes on parents' knees to skipping chants to bawdy playground rhymes, poetry occupies a central part in all our lives growing up.
The Cambridge Professor of Children's Poetry Morag Styles says, "Children are hard-wired to musical language – taking pleasure in the rhythm, rhyme, repetition and other patternings of language."
This is a phenomenon found all around the world, in all cultures, as the pioneering work of Iona and Peter Opie has shown. It is often through poetry that children hear their first stories.
It keeps you company
The Scottish poet Don Paterson often says that a poem is "a little machine for remembering itself".
"The one unique thing about our art", he says, "is that it be carried in your head in its original state, intact and perfect…our memory of the poem is the poem."
Many of us, especially in older generations, have poems we remember from school that, unlike paintings or pieces of music, we can not only recall but re-create — for comfort in times of trouble, or in reflection, or in moments of intense feeling. Poetry is art you can always carry with you.
Ideas to exercise your mind
A major season centred around National Poetry Day on 8 October 2015.
Poetry, at its best, keeps language honest
Poetry keeps the language honest: it cleans out the cliches and lies by holding them up to scrutiny. The poet John Burnside, in an interview with the Forward Arts Foundation, said that "a bad metaphor is as much a lie as a bad narrative".
Taking care over nuances, avoiding clichés, and received wisdom is a defence of "the language, its richness, its subtleties, its possibilities" and a way of taking arms against the "deceptive myths peddled by certain politicians and salespeople".