Main content
Proms in the Park 2014 - How to Watch and Listen
On Saturday 13 September we celebrate The Last Night of The Proms with concerts across the UK, and you can watch them all live on this website.
About the Last Night of The Proms
Proms in the Park sees the spectacular culmination of the BBC Proms season, as the world-famous Last Night celebrations spill out from London's Royal Albert Hall, and thousands of people come together at venues across the UK to be part of the magic of the Last Night.
In London, the Last Night celebrations are held at the Royal Albert Hall and at Hyde Park. The other Last Night celebrations take place in Northern Ireland, Wales and Scotland.
The evening culminates in a live big-screen link-up to the Royal Albert Hall for the traditional singalong.
How To Watch
You can watch the Royal Albert Hall concert on BBC Two (first half) and BBC One (second half) on Saturday 13 September and on BBC iPlayer for 30 days.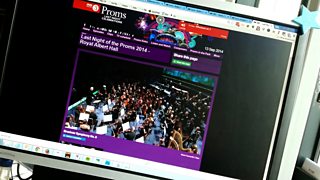 :: Last Night of the Proms: Part 1 (BBC Two)
:: Last Night of the Proms: Part 2 (BBC One)
You can also watch each of the five concerts from across the UK live online from this web site. Get into the mood with our live blog which we'll be updating through the evening with high quality photos from all the venues and your best tweets and posts.
There will be live coverage of the Last Night Celebrations on the BBC Red Button from 1930-2300 on Saturday 13 September. Red Button coverage will feature highlights from all five venues.
Come back for more after Saturday to watch performances from selected acts for up to 30 days online.
Last Night of the Proms Celebrations on Radio