Main content
BBC Sussex Community Heroes Awards
The judges have met and we are delighted to announce the finalists in our 2016 BBC Sussex Community Heroes Awards. In no particular order, our finalists for this year are: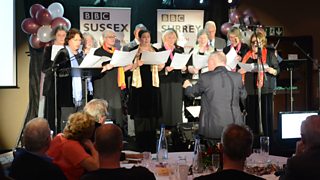 999
Rob Dodds
SERV Surrey and South London
Mandy Partridge
Animal Welfare
Julia Robertson
Tim Bullen
1066 Reptile Rescue
Julia Robertson
(Highly Commended - Sally Field, Bob Hutchings)
Carer
Judith Shrubb
Ant Neal
Rob Stanley
Fundraiser
Julie McDonnell
Joyce Avard
Epsom Medical Equipment Fund
(Highly Commended - Aaron Lawrence)
Good Neighbour
David Duke
Alice Parker
Jim Ahmed
Music and Arts
Ariel Company Theatre
Happy Kings and Queens Drama Group
New Note Orchestra
Sport
Richard Gammage
Simon Munn
Crackit!
Harry Fairchild
Volunteer
Gillian Ely
Chris Lowe
Sussex Nightstop Volunteers
(Highly Commended - Saty Satyendra, Sefton Cheskin)
Young Achiever
Amy Knight
Frances Deans
Raefn Webber
(Highly Commended - Henry Doran)
The overall winners will be announced at a prestigious awards ceremony taking place on Monday, 28 November at 7pm. The event will be broadcast on our Facebook Live page and there will be highlights on our Breakfast Show the following morning. If tweeting about the awards, please use #BBCHeroes
Judge and Acting Managing Editor Mark Carter commented: "This was a record-breaking year for entries, and we were overwhelmed by the quality of the nominations. Finalists or not, everyone nominated should feel incredibly proud of their achievements."
Last year's ceremony
Click here to look back at the 2015 awards ceremony through photos, audio and read about the winners.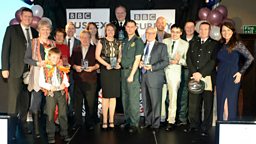 Winners of the 2015 awards