Main content
What you can do to help wildlife this winter
There are plenty of easy ways you can help British wildlife in the winter. Below we share some links and information on the issues our wildlife face - and how you can help.
The Big Garden Birdwatch
Running from the 29 - 31 January 2021, the RSPB's Big Garden Birdwatch is the ideal opportunity to get to know who you're sharing your garden with and contribute some meaningful data to nationwide citizen science.
Maybe it's a robin on the compost bin, a blackbird in the bushes or terrific tits on your feeders; now is the perfect opportunity to start counting.
Help our hogs!
Whilst counting hedgehogs is difficult, current reports suggest that there are fewer than one million hedgehogs left in the UK.
With such a dramatic decline over the last fifty years, we all need to do our bit to save one of our most beloved mammals. Thankfully, there's plenty of information online when it comes to helping them out in our back yards.
Some tips
Cut a hole in the fence - the single most important thing you can do, as it allows them to roam. A single hedgehog travels 1-2km a night in search of food and usually ranges over an area of 10 hectares (24.7 acres).
Leave water for them to drink - especially in winter when natural sources can freeze
Build a hedgehog house for shelter and hibernation
If you want to leave food, try meaty dog or cat food (not fish)
Never leave them milk - it can make them very ill
Tiny hog? If you see a hog out and about at this time of year, and it's smaller than a grapefruit (!) it could be young or unwell. Let your local wildlife group know.
Resident hog! If you have a hedgehog in your garden, let Hedgehog Street know! Helping to map distribution betters our understanding of their numbers and conservation status.
With the new Hedgehog Street app, helping hedgehogs is easier than ever.
You can also see how vulnerable hedgehogs are on the roads near you on this interactive map and check your speed!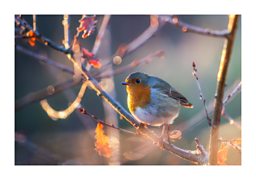 Verity Milligan captured this gorgeous shot of a robin in winter light
Help our butterflies
The Butterfly Conservation website is full of information on butterflies and how you can help them:
Take part in a beach clean
Our oceans are strewn with litter, in fact more than 8 million tonnes of plastic are dumped into our oceans every year. A simple way you can help is by collecting litter that washes up on our beaches - especially as winter brings ferocious storms to the seas surrounding the British Isles.
If you tweet, you can document your litter picking activities and successes using #2MinuteBeachClean. If you don't fancy doing it alone then there are plenty of events organised around the country on a regular basis. Beachwatch set up events for beachcombers to participate in organised events near them.
If you're not near the coast, a litter pick is equally good for our environment and wildlife.