Main content
'Unlucky for some!' — why Glasgow has bucked the downward trend and remained the UK's 'top of the shop' bingo hotspot
Bingo is kind of a secular religion here in Glasgow

Jenny Kleeman, journalist & presenter
Britain's love affair with bingo has gone through something of a change in recent years.

Gone is the 60s and 70s heyday, but new crowds are proving the pastime is still popular in bingo's spiritual hotspot: Glasgow.

• Bingo Master's Breakout 🎧 (an early classic track by post-punk stalwarts The Fall)
Why is bingo still big in Glasgow?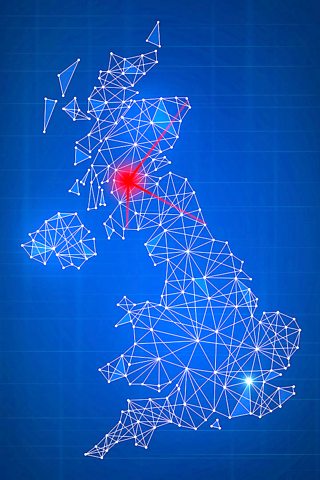 Scotland is home to some the busiest bingo clubs in Britain; indeed, according to cashier Jacqueline, the Parkhead area of Glasgow's East End houses the UK's very biggest bingo hall.

Paul McGlinchey, the manager of one such hall, believes that bingo is still big there because the people who began playing in the 60s still live in the surrounding areas.

"Edinburgh has been totally taken over by new housing developments. Incoming professionals have pushed normal bingo customers to the outskirts of the city.

"In Glasgow, people have stayed in the same house for generations and that's one of the things that has kept bingo buoyant here."
Superstition in bingo
Manager Paul claims that he is privy to "superstition off the scale".
Players have their favourite book seller, for example. Paul gets snubbed every night by players who feel he sells bad books in his club.
There are also the lucky charms that adorn the tables in the hall: cats; horseshoes; angels; photographs of deceased spouses.
One player admitted that she always looks for a magpie before going to the bingo so she can recite "white rabbit, white rabbit, white rabbit" to it for good luck.
Selected bingo calls and their meanings
| Number | Call | Meaning |
| --- | --- | --- |
| 1 | Kelly's eye | Potentially relating to Ned Kelly or military slang. |
| 2 | One little duck | The shape of the number two looks like a duck. |
| 6 | Tom Mix | Rhymes with six. Named after silent movie star Tom Mix. |
| 7 | Lucky seven | Seven is considered a lucky number in many cultures. |
| 9 | Doctor's orders | Named after a powerful laxative given out by doctors during WW2. |
| 10 | (Theresa's) den | The first name of the current prime minister and 'den' to allude to No. 10 Downing Street. |
| 11 | Legs eleven | Two number ones look like a pair of legs. |
A classic bingo comedy sketch from Victoria Wood and Julie Walters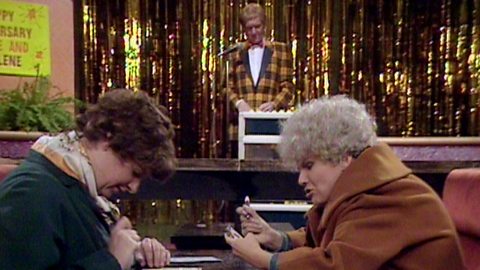 Julie Walters on the secret to making Victoria laugh and the classic sketch, Bingo.
Latest features from BBC Scotland