Main content
Faith in The World Week 2019 - Mike Teague's story
The solo jobbing organist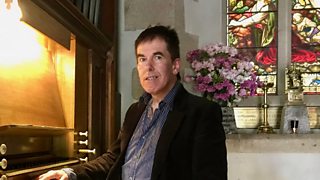 Mike Teague tells BBC Radio Cornwall why he chooses a musical job which keeps him on the move.
"It might seem to the outsider that I'm ploughing the lone furrow. But it does seem to be life in the fast lane with people continually around me."

"As a solo organist, I wear many different hats." Mike explains: And it takes me to funerals in various parishes including the crematorium which is obviously quite important as in income."
He does a good many weddings too, as well as recitals. He says he believes it's a gift from God, which is why he wants to use his musical talent to play in churches.
Mike can sometimes do five or six services a day in different parishes, and says although he's not part of one congregation, he never gets lonely.
"It's lovely to be welcomed and to be given such a warm reception wherever I end up playing. That's one of the privileges of working within the Anglican Church. It was lovely to have a lunch invitation even this past Sunday where I could join a family here and share in their Sunday lunch."
But despite the fact that his is a lone job, he actually relishes his solitary time. In fact, he says he has just started exploring the possibility of going on a silent retreat. "It does seem that I'm continually surrounded by people."
But he adds: "I must say I really do feel quite privileged to be living this lifestyle and I have to say that I feel totally blessed and fulfilled."
***You can listen to more stories of faith and singleness on BBC Local Radio.