Main content
Tuesday 7th October: Margate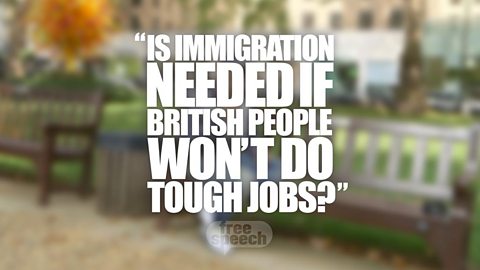 Victor Spirescu arrived in the UK on the day work restrictions for Romanians were lifted.
Victor flew into Luton airport on the 1st January 2014. He didn't know it yet but he was the first Romanian to arrive after temporary controls on Romanian and Bulgarian immigrants had been lifted. He was met by a collection of MPs and journalists, full of questions about why he had come and what he was planning to do here. When Free Speech was doing its research into the topic of immigration we decided it would be interesting to track Victor down and find out what he had been doing since. In the film he talks about the variety of jobs he's done and concludes we need immigration because, "English guys don't want to do hard work for cheap money and the hard jobs are not well paid."
It's a controversial argument but one that has received support from politicians in both the Labour and the Conservative parties, and from others like Jamie Oliver, who told a magazine that, "our European immigrant friends are much stronger, much tougher… If we didn't have any, all of my restaurants would close tomorrow. There wouldn't be any Brits to replace them ... British kids particularly, I have never seen anything so wet behind the ears!".
What do you think? Are young people not up for tough jobs? Or does the difference in wages between Eastern Europe and the UK play a bigger role? Tweet us @BBCFreeSpeech or comment on our Facebook page. Social media presenter Tina Daheley will try and get your comments heard in the debate.
To discuss this issue of jobs and immigration we are in Margate in Thanet, which is the corner of Kent where Nigel Farage is running for Parliament next year. The show is also two days before the by-election in Clacton which could see Douglas Carswell returned to Parliament as the first UKIP MP.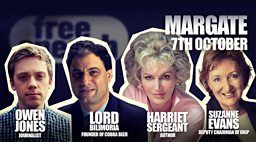 On the panel we have journalist Owen Jones; Lord Bilimoria, the founder of Cobra Beer who is himself an immigrant; UKIP's Deputy Chairman, Suzanne Evans; and Harriet Sergeant, the writer of Among the Hoods: My Years with a Teenage Gang.
What else will we be talking about? Well that's up to you of course. Our Choose Our Questions page on Facebook is where you can click like on the questions you want asked on the show. On Tuesday we add up the likes and put them in order.