Main content
When Star Wars got it awesomely wrong: The TV Holiday Special
14 December 2017
While Star Wars: The Last Jedi may have wowed fans, not everything in the billion dollar franchise has been lovingly embraced by the faithful. Oh, no. In 1978 the made-for-TV Star Wars Holiday Special proved to be a thing of awesome, jaw-dropping awfulness. Why did it go so wrong?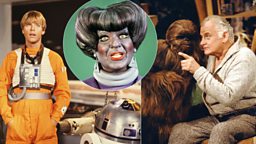 Left to right: Mark Hamill, Harvey Korman and Art Carney appeared in the Star Wars Holiday Special | Photos by CBS via Getty Images
Let's head back to 1978. Director George Lucas had just landed the highest grossing movie in cinema history the previous year, something called Star Wars, but hadn't got its much-anticipated sequel together yet.
Cue CBS, who want to produce a Star Wars TV special for the weekend before Thanksgiving. Great idea, says George, who views this as a stop gap and a good way to keep the merch moving.
He throws the TV folks the keys to the Millennium Falcon - and a curveball. Lucas wants the Special to revolve around the Wookiees, hirsute creatures who can't speak but just moan in a peculiar, pre-orgasmic way.
Initially, Lucas was due to oversee proceedings but soon found himself called away on more important business, leaving the show to a bamboozled production team. Later, the Special will be billed as - deep breath - 'Luke Skywalker and Han Solo battle evil Imperial forces to help Chewbacca reach his imperiled family on the Wookiee planet – in time for Life Day, their most important day of the year!'
The show centres mainly on Chewbacca's Wookiee family (consisting of his wife Malla, father Itchy and son, Lumpy) who anxiously await his return to celebrate Life Day. But Chewie and Han Solo are delayed by an Imperial blockade, during which time Chewie's family amuse themselves with various forms of sci-fi entertainment interspersed with interruptions from Imperial stormtroopers.
Just at the point where the last, geriatric variety shows were limping off American TV screens, it seems the producers chose to create... a bizarre variety show and a rather camp one at that.
What could have gone wrong? Well, just about everything.
If I had the time and a sledgehammer, I would track down every copy of that show and smash it.

George Lucas
Following a three line whip, the movie's principals had been dragooned into participating, resulting in a very unhappy intergalactic crew, some of whom had their own demands. Carrie Fisher insisted she had to sing her maudlin Joni-Mitchell style ballads but was told to move away from the piano. The producers eventually threw in the towel and let her serenade the Wookiees as a finale. Harrison Ford just didn't want to be there. Wishfully, he grumpily opens the Special with the words, "That's it; I'm turning back".
To make up the numbers, rock band Jefferson Starship (remember We Built This City ... on rock 'n' roll?) knocked out an incendiary tune called Light The Sky On Fire. In came hardy sitcom perennial Bea Arthur (later star of The Golden Girls) to run a cantina and sing to aliens.
But perhaps the strangest addition was Harvey Korman, best known as the dastardly railway boss Hedley Lamarr in Blazing Saddles. He plays an android gone rogue, a barfly who drinks through the top of his head and a four armed chef who has to wear the most troubling female wig ever seen on American television.
The script was written to fit within a variety show format by Bruce Vilanch, Rod Warren, and Mitzie Welch and the role of the director was taken by David Acomba who, like Lucas, was an alumi of University of Southern California film school. Acomba was previously a music director and not used to the slow nature of filming for TV; he quit the production after filming only a few scenes.
Star Wars on Front Row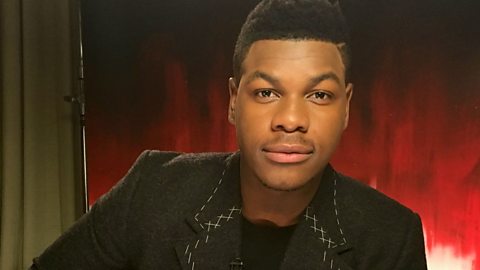 The Last Jedi actor discusses going from Star Wars to Shakespeare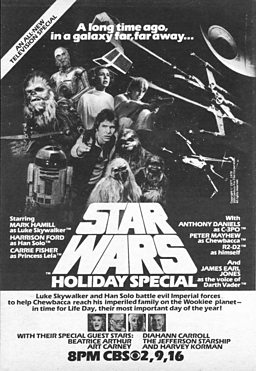 Poster for the Star Wars: Holiday Special, November 11, 1978. Photo by CBS | Getty Images.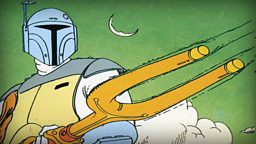 Before appearing in The Empire Strikes Back, Boba Fett made his screen debut in The Star Wars Holiday Special. The designs for the character are believed to have been conceived by Star Wars Production Designers Joe Johnston and Ralph McQuarrie. Animators Nelvana then created a cartoon around the bounty hunter for the Special.
Steve Binder was hired as a replacement director to finish the production. But with a budget of approximately $1 million, just a fraction of the $11 million it cost to make the movie, this was a bit of a stretch. The budget was so tight that when it came to filming the final 'Life Day' celebration scenes the crew used candles in a dark studio to produce the starry effect because there was no money left for anything more sophisticated.
On top of this, issues with overheating Wookiees caused delays to shooting.
The actors could only wear their costumes for 45 minutes at a time before needing oxygen and a break. This was not accounted for in the scheduling, adding cost to what was now a runaway production.
But over all this hangs a question which remains unanswered to this day.
Why is there is a scene with Chewie's father Itchy using a proto-virtual reality headset, called the Mind Evaporator, to have a sexual fantasy in a show aimed squarely at family viewing? Even stranger, why did singer Diahann Carroll agree to play the subject of his sexual fantasy?
That said, not all the musical or fantasy interludes are as awkward. The cartoon which introduces the character of Boba Fett to the Star Wars franchise is largely seen as the highlight. This was produced by a company called Nelvana. Their website contains not a mention of their Star Wars contribution. Yet they happily trumpet an animation called The Day My Butt Went Psycho!
When the programme aired in 1978 the end of the cartoon coincided with a significant drop in the ratings which had peaked at 13 million viewers, a disappointing figure considering the scale and ambition behind the programme.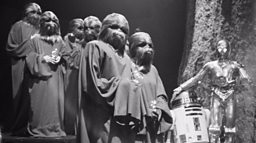 Life Day celebrations in The Star Wars Holiday Special, August 23, 1978. | Photo by CBS/Getty Images.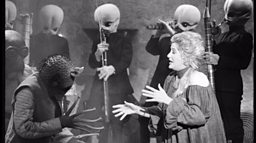 Bea Arthur (as Ackmena), with interplanetary bar / cantina patrons. Image dated August 23, 1978. | Photo by CBS via Getty Images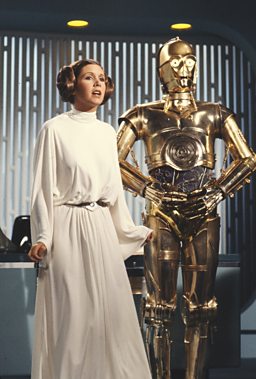 Carrie Fisher as Princes Leia and Anthony Daniels as C3PO in The Star Wars: Holiday Special. August 23, 1978. Photo by CBS | Getty Images.
The Special had simply failed to capture fans' imaginations or at least meet their expectations.
What I realized was, the public was not told this wasn't going to be Star Wars. It was not the second movie. It was going to be a TV show to sell toys to kids.

Steve Binder, Director Star Wars: Holiday Special
Tragically, the action figures of the Wookiee family which had been manufactured were never distributed. Yet, despite this failure, this Star Wars orphan has found a new lease of life through the internet, much to the disappointment of Lucas and the show's stars.
Lucas is widely quoted as saying "If I had the time and a sledgehammer, I would track down every copy of that show and smash it."
Whereas Carrie Fisher has reportedly said she would put it on at dinner parties when she wanted people to leave.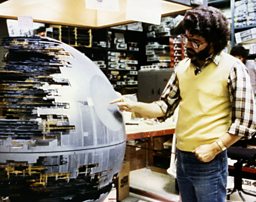 George Lucas on the set of his movie Star Wars: Episode VI - Return of the Jedi. Date unknown. Photo by Sunset Boulevard | Corbis via Getty Images.
And yet, for many fans, the Star Wars Holiday Special remains a guilty pleasure, rarely discussed in public but visited from time to time somewhere out there on YouTube far, far away.
Some too look wistfully to George Lucas at last to take responsibility for what he caused to be created. To look at Malla, Itchy, Lumpy and all the other guys and say, "I am your father".
Star Wars: The Last Jedi is in UK cinemas from 14 December 2017.
Warning: Third party content may contain adverts.
More from BBC Arts
All aboard! Trainspotting at the movies as Inside Cinema takes an in-depth survey of trains on film

An interview with the late author from 2011, featuring rarely-seen drafts and lithographs of the title page artwork