Main content
Homeschool History Lesson: Mary Queen of Scots
Greg Jenner, the mastermind behind Horrible Histories and the You're Dead To Me podcast, is here to teach you all a lesson. Homeschool History provides a quick burst of educational niceness dealing with a load of fascinating topics from the past. This week he looks at the turbulent and tragic life of Mary Queen of Scots.
1. The Little Princess
Mary Stuart was born on 8 December 1542 at Linlithgow Palace in Scotland. She was the only heir to the Scottish King, James V, and his French wife, Mary of Guise. She was also the great-niece of King Henry VIII of England. You'd think the life of a princess would be all tiaras and late lie-ins, but Mary's life was highly problematic from the start.
2. Newborn To Be Queen
The trouble started early for poor old (or rather young) Mary as her father died when she was just six days old and she suddenly found herself to be the Queen of Scotland. Due to her being very much a baby at the time, her mother ruled on her behalf, alongside a number of regents who advised her, while attempting to gain power and influence.
3. Put a Ring On It
Despite being in nappies, Mary was hot property when it came to potential marriages to other regal suitors. Many countries wanted an alliance with Scotland and Mary was courted by a number of royal houses including Henry VIII, who wanted her to marry his son Edward. But Mary, a Catholic, wasn't considered a suitable bride for Edward, a Protestant.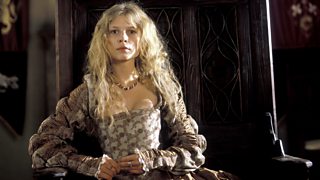 Who was Mary Queen of Scots anyway?
Image: Clémence Poésy as Mary Queen of Scots in Gunpowder, Treason & Plot (2004)
4. Young Love
Instead, Mary was betrothed to the dauphin of France, Prince Francis, and sent off to live alongside her future husband, who was only four at the time. While waiting to be old enough to marry, Mary enjoyed the fancy pants courtly life in France. Eventually she married her prince when they were both teenagers.
5. French Exit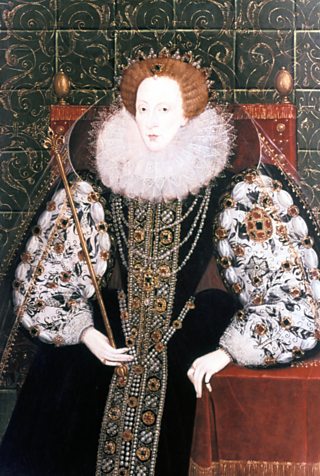 Mary's frenemy: Queen Elizabeth
Soon after the marriage, the King of France died and Mary suddenly found herself to be the Queen of France. But, as this is Mary and tragedy stalks her like a big stalky thing, Francis soon died also. The powers that be didn't want this Scot hanging around and ruling them – Mary was sent back to her homeland.
6. Home Is Where The Plot Is
But things weren't all that great in Scotland either. Mary, who had been living abroad for ages, wasn't up to speed with the current intrigues in the Scottish court, and she was viewed with suspicion. Her mother, who had been left in charge, was under the influence of some power hungry lords, plus her half-brother James Stewart, and everyone seemed to be plotting against her.
7. Friends in High Places
But Mary did have one pal, and an important one at that – Henry VIII's daughter Elizabeth had become Queen of England and, via letters, bonded with Mary over being female heads of state in a man's world. But Elizabeth's suggestion that her former suitor Robert Dudley, a commoner, would be a good husband for Mary infuriated her. Instead, Mary married Lord Darnley, her half cousin.
8. Hubby Trouble
But, unsurprisingly as this is Mary, Darnley turned out to be a wrong 'un. Though Mary was in love with him, Darnley's infatuation was firmly directed towards becoming King of Scotland outright, not just a consort to Mary. He began to plot against her and murdered her private secretary in front of her.
9. Bang Goes That Marriage
But the problem of Darnley was soon dealt with as, not only did his house explode, but, just to make sure he was definitely murdered, he was also suffocated. One suspect was Lord Bothwell, who was tried for the crime, then acquitted, then kidnapped Mary and then forced her to marry him so he could be King. That, as they say, escalated quickly.
10. With Friends Like These…
James Stewart raised an army against Mary and Bothwell. Mary was captured and im-prisoned at Loch Leven Castle. But she managed to escape, in disguise, and flee to England hoping for the help of her pal Elizabeth I. But Elizabeth was canny and knew that an alliance with Scotland was more important than her friendship with Mary.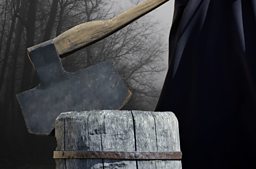 The chop: Mary's grisly fate
11. Chop Stu-ey
Mary, after a few goes, was beheaded in 1587.
Mary was placed under house arrest. Meanwhile her son with Darnley, James, followed in his mother's footsteps and became the King of Scotland even though he was just a baby. Desperate to be free, Mary foolishly got involved in a plot to oust Elizabeth. The plot was discovered and Mary was charged with treason. Elizabeth was reluctant to execute a fellow royal, but eventually she signed the death warrant and Mary, after a few goes, was beheaded in 1587.
12. Mary Buried
Mary's life was tumultuous and tragic. But her legacy lived on. Elizabeth I died without an heir so Mary's son, James, became King James I of England in 1603. Eventually he exhumed and moved his mother's body from Peterborough Cathedral to Westminster Abbey where she was entombed amongst the other British sovereigns.
More from Radio 4
Melvyn Bragg and guests discuss the history of Mary, Queen of Scots.