Main content
Why Len Loves Lionel
On Great Lives, Strictly's Len Goodman talked about his admiration for lyricist Lionel Bart. Lionel taught himself to play the piano when he was evacuated to a Welsh farmhouse that had a piano, but despite producing some of the best known lyrics in musical theatre and writing the book, lyrics and music for Oliver!, he never learned to read music properly.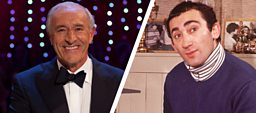 Words, words, words
Len's father was very keen on poetry and would read it to him. When they listened to music, his father would point out the lyrics and to Len they became as important, if not more so, than the music. Len says that lyricists are the "unsung heroes of musicals" (pun intended). As a child in the playground, Lionel Bart would be the one "making up dirty lyrics for songs."
Humble beginnings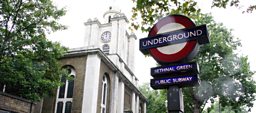 Image: Lionel had a humble upbringing and was a Bethnal Green (East End) boy born in Stepney, London
Like Len, Lionel Bart was an East End boy. The youngest of a Polish refugee family of seven children, his family home in Stepney was always so full of people Bart claimed that's how he became good at delivering one liners – "no-one ever got to finish a sentence."
Anti-Establishment
Len also relates to Lionel because of their working class roots. Len was mesmerised after seeing Bart's musical 'Fings Ain't Wot They Used T'Be'. Len explains that Lionel "made musicals that ordinary people could understand". Everyone knew the story of Oliver Twist without reading Dickens. You could assimilate, understand and be a part of it." The Establishment frowned upon Lionel Bart because he was a Communist from the East End who'd made pop music (writing Living Doll for Cliff Richard, for example) before going into musical theatre.
Light and dark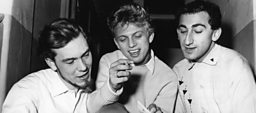 Image: Michael Pratt (left) and Tommy Steele (centre) sit alongside the young Lionel Bart (1957)
Lionel had what Len describes as a huge case of "imposter syndrome". He was called Lionel Begleiter and chose 'Bart' as a surname after driving by Bart's hospital on the bus....or that was one of the stories he told about his beginnings. The number of his siblings, the story of his name and most other aspects of his life were subject to creative licence. He also spent much of his life in the closet, (homosexuality was illegal when he began his career) and suffered from a huge lack of confidence. Len wishes he "could have told him he would go down in history as the writer of one of the best musicals ever." Oliver! earned Bart £8 a minute in the Sixties.
Do you know why I never committed suicide? Because I would simply hate to be found in any condition other than utter splendour.

Lionel Bart
Sadly, Lionel frittered all his money away on a combination of cars, luxury and being incredibly generous to his friends. He was, says Len, "a genius as far as music was concerned," but died of liver cancer, living in a one bedroom flat in Acton, alcoholic and bankrupt. A sad end for the man who once said 'Do you know why I never committed suicide? Because I would simply hate to be found in any condition other than utter splendour."
Listen to Great Lives, in which Len Goodman champions the astonishing life of the writer and composer Lionel Bart.