Main content
Eight things we learned from Sharon Horgan's Desert Island Discs
Actor, writer and producer Sharon Horgan is co-creator of TV hits like Catastrophe and Pulling. Her trademark is putting a spotlight on some of our darkest emotions and finding the humour within. The characters she creates can be difficult and complex and she doesn't shy away from making them unsympathetic. As Lauren says in the programme: "They can be painful to watch, while still being painfully funny."
This is what we learned from Sharon Horgan's Desert Island Discs: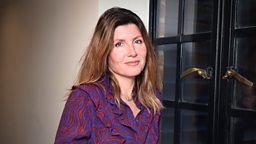 1. She sees her creativity as coming out of chaos
"There's still just a mess at the heart of all my work," she says. "I'm trying to explore the parts of my life that I haven't worked out. I've recently started therapy and doing the normal person's route rather than making a TV show about it. But for years I didn't want to do that, I wanted to hold on to the mess. It felt that if I got things fixed something would be taken from me creatively.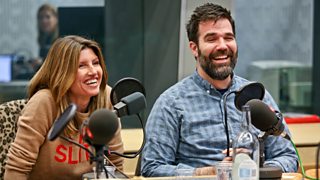 Sharon and Rob Delaney, co-stars and co-creators of the sitcom Catastrophe, in 2017 on Radio 4's Loose Ends
2. She studies friends and family to use in her comedy
"I'm a watcher, I'm like a comedy dogger!," she jokes. "I really love watching people's relationships. Sometimes I get angry at myself and think 'Be in the room, don't be thinking about what you can do with that thing.' It feels sort of cheeky. I've always done it, and squirreled away the stories and they just showed up on screen. Now I'm very open and honest with people if they're telling me something that I know for a fact is going to go in somewhere I tell them."
3. Her first Desert Island choice reminds her of her family
"I wanted something to connect with my parents, brothers and sisters because I love them madly." It's a track by David Bowie because he was Sharon's "first obsession. I just remember seeing him on Top of the Pops, the Ashes to Ashes video - I must have been 10 or eleven, and thinking: 'What the hell is this?' So I just went out and bought all his albums, learnt all the words and listened to him religiously. It makes me think of my family and our house in Bellewstown in Ireland." The track is Rock 'n' Roll Suicide.
4. Sharon was caught drinking wine at her convent school
"There was a constant fear, it was all very hellfire and brimstone," remembers Sharon. "It built up a really nice juicy level of guilt and shame in you at an early age. So if you had any streak of boldness in you it was terrifying because you were always going to get caught. I got caught drinking wine in the classroom - that was one of the most terrifying moments of my life… I got in trouble for drawing a smiley face on the uterus in science class. There was a certain way to look and behave and that was not just in the school but outside of school as well, everywhere you went."
5. Writing and acting were important from an early age
"I started writing pretty young," says Sharon. "Myself and my best friend, we decided we were poets and we used to write to each other. We intended to write a book but we never did. And I got this notion into my head that I was going to be an actor. For some reason I never looked to find a play to practise on, I would just write my own angsty monologues and perform them." Writing remains all-important: Sharon's choice of luxury for the island is a solar-powered laptop, to be used only as a word processor.
6. Pulling, the BBC Three series that Sharon co-wrote, changed everything
Sharon had been acting professionally and "had done shows as an actor, enough to be making a good living... But this was my own thing." About working with writing partner Dennis Kelly, she says: "We had this freedom, creatively, that as it turns out is really hard to hand back."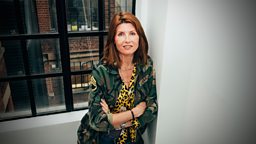 7. Sharon appears in the music video for one of her castaway selections
"I had to learn to dance for this video and I can't really dance because I'm self-conscious," says Sharon. The band is Metronomy who she says she "just sort of fell in love with them, everything about them - their look, their videos." Picking up the not dancing theme Sharon says: "I'm fine dancing at gigs, but when you dance with someone in front of someone I don't know where to look." The song is Old Skool.
I'm a watcher, I'm like a comedy dogger!
8. Sometimes she wishes she could be more like the women she plays on screen
"Generally if I'm honest it just makes me wish I was more brave in real life, especially when I watch my character in Catastrophe, giving people what for, and being so sort of 'That's just how it is, this is what I stand for and stand by'. And I just feel this sort of slight shame that I haven't quite got her love of balls."