Main content
Jodie's race to become Europe's first female motorcycle champion

Jodie Chalk is a young woman making waves in the world of motorcycle racing.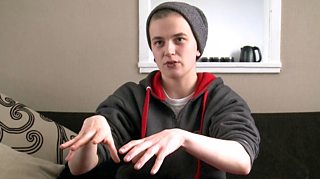 2018 was the biggest year of her career so far. Not content with setting track records all over Britain, Jodie became the Scottish national champion in the CB500 racing category, which meant she became the first female in Europe to win a national motorcycling championship.
The highs and lows of Jodie's journey to the championship was documented in The Racer.
"You don't realise how much you're actually fighting your instincts when you're out on the track.
It's almost like your blood's on fire
"You're flying round corners at crazy speeds and you're hanging off a bike at ridiculous angles, so your body's kind-of actually telling you that this isn't the best place to be. You're having to fight that instinct constantly — which is a massive, rush.
"It turns into this adrenaline. It's almost like your blood's on fire. You can literally feel it racing through you. Every single cell every part of you is flowing completely in; it's like electricity."
'Why am I doing this?'
Although Jodie has been racing for many years, she still has to overcome her nerves before each race.
"I don't know anybody to this day, still, that's told me they don't get nervous. I think it's a natural thing to get nervous. It's so strange to feel that anxious about going out and doing something that you really enjoy. You almost question yourself — like, why am I doing this if it makes me feel this way?"

Jodie's father, Garfield, has made sacrifices to help his daughter's racing career. He also gets nervous before Jodie's races and sometimes wishes she had chosen a milder pastime instead of a career in motorcycle racing.
"I'd have rather Jodie took up knitting lessons or Come Dancing... but that was never happening from the get go!"
The CB500 championship title is within Jodie's grasp – will she make it and be Scotland's first female champion?
A family affair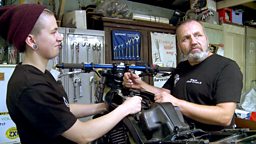 Jodie and her dad, Garfield, working on a motorcycle
Women with a need for speed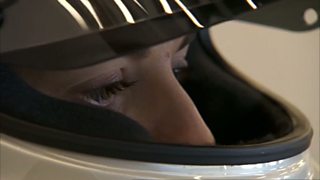 Susie Wolff gets geared up to get behind the wheel of a Formula 1 racing car. (From 2013)
New TV channel: BBC Scotland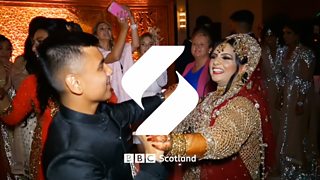 Channelling real lives: some of the new documentaries on BBC Scotland.
Latest features from BBC Scotland