Main content
Venue and Tickets
Radio 2 Folk Awards 2017
Ticket Information:
The event takes place at the Royal Albert Hall on Wednesday 5 April.
Tickets go on sale from 17.20 on Monday 6th February. Tickets are available by phone, however we recommend booking online, as our online system can handle far more simultaneous transactions.
The following link will take you to a secure site hosted by the Royal Albert Hall, who are handling the ticketing process on behalf of Radio 2 and the BBC.
If you try and access the above link before 1720 no tickets will show up as being available.
The above link will show the most up-to-date information about current ticket availability.
It is possible that you will be placed in an online waiting room before you can start the booking process.
You do not need to register for the event in advance.
Royal Albert Hall
Address:
Royal Albert Hall, Kensington Gore, London SW7 2AP
Date:
Wednesday 5th April 2017
18:30 Doors, 19:15 Show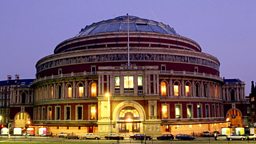 Telephone Booking
We strongly recommend booking online if possible – it is the simplest and quickest method of getting tickets. We expect phone lines will be very busy, however a dedicated phone number - 020 7589 8212 – is available for those without internet access.
(Standard landline / local network rates apply)
Calls made before booking opens will still be changed.
Tickets are also available in person from the box office at the Royal Albert Hall.
The box office is open 0900 – 2100 daily.
Terms and Conditions:
Please note this is an age restricted show – under 18s must be accompanied by an adult at all times.
As a ticket holder, you consent to being photographed or filmed as a member of the audience, and consent to resulting materials being used in commercial distribution, publication and BBC communications, without payment or copyright.
Tickets will be limited to 12 tickets per household.
Ticket prices include a transaction fee of 2% of the total booking and a £2.50 per ticket fee when booked over the phone or online. If someone books 12 tickets then the fees are capped at £30.
Bookings made in person at the Royal Albert Hall box office are exempt from the booking fee.
Accessibility bookings: Disabled customers may book a free ticket for a companion. Please note that these bookings must be made by telephone or in person.
The Royal Albert Hall Box Office will handle all bookings and enquiries.
For more information about the venue's restrictions, please view the Terms & Conditions on the Royal Albert Hall website.
Travel and Directions:
Please visit the Royal Albert Hall website for travel and transport information and options for the venue.
Disabled Access Information:
For information about Disabled Access at the venue, please visit the accessibility section of the Royal Albert Hall website.