Main content
Saba & Frank
Saba Douglas-Hamilton
Born in Kenya with lions, giraffes and warthogs in her back garden, and speaking Swahili as her first language, Saba became entranced with wildlife at an early age. Her childhood was spent bumping around in the back of an open truck between Tanzania, Kenya and Uganda while her parents studied elephant behaviour and then battled to save them from the illegal ivory trade.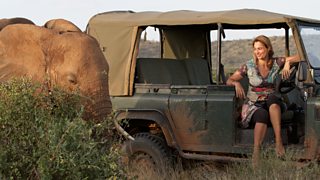 At the age of thirteen, barefoot and unruly, Saba came to the UK to go to school and university, where she gained a Masters in social anthropology. Saba returned to Africa to work in rhino conservation in Namibia and then with elephants back in Kenya.
Saba is a director of Elephant Watch Camp and has served as a trustee of Save the Elephants for a decade. As an environmentalist she has lectured extensively to raise awareness about conservation issues and has presented many natural history series including Secret Life of Elephants, Unknown Africa and Big Cat Diary. She met Frank at a wedding in England and persuaded him to move from Cornwall to Nairobi. They subsequently married and had 3 children: Selkie, Luna and Mayian. They now live between Samburu and Nairobi.
Frank Pope
Frank is a surfer, diver and swimmer – he loves all things to do with the ocean. He spent years working in marine archaeology, examining & excavating shipwrecks around the world. One project – the excavation of an Asian junk sunk in deep water off Vietnam – was the subject of his first book Dragon Sea: A True Tale of Intrigue, Treasure and Adventure Under the Waves.
Until 2012 he was the ocean correspondent for The Times, covering everything from offshore energy to environment, piracy to science, shipwrecks and exploration. Frank has also worked in television – presenting a BBC series about the forgotten shipwrecks of the river Thames, followed by Britain's Secret Seas. Then he met Saba and the rest is history.
After a couple of years with both of them flying round the world to be with each other, Frank finally took the plunge and moved to Kenya where he now works as the chief operations officer for Save The Elephants.