Main content
How 6 Music Festival marked International Women's Day
Sunday at 6 Music Festival saw International Women's Day celebrated with an all-female line-up at the Roundhouse in Camden, with such trailblazing acts as Kate Tempest, Kim Gordon, Jehnny Beth, Anna Meredith and Nadine Shah all gracing the stage.
Here are the highlights from the very special event:
Nadine Shah paid tribute to Amy Winehouse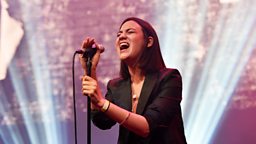 Kicking off the International Women's Day line-up at the Roundhouse on Sunday was Nadine Shah, who delivered a brilliantly commanding and captivating set, and was full of praise for her fellow artists on the bill too, telling the crowd: "It's such an honour to be playing today, especially on International Women's Day... We got a world class line-up of hard-working artists and I'm honoured to be sharing the stage with them."
"I'm privileged to have so many amazing women in my life," Shah later added, paying tribute to her mother and manager before making a dedication to her late friend Amy Winehouse. "It's a cover of a song that me and her used to sing together... I would do the backing vocals," Shah explained before performing jazz classic 'There Is No Greater Love', which Winehouse covered on her debut 'Frank'.
Shah also urged for more female representation on line-ups generally, saying that an all-women bill shouldn't be a novelty and adding: "When the line-up was first announced, I didn't [realise] it was all females, I just thought, 'what a lovely line-up, what a spectacular bunch of musicians.'"
We witnessed a bonafide music legend in Kim Gordon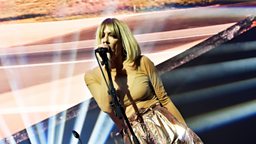 Modern music stars don't come much more influential than Kim Gordon, whose former band Sonic Youth inspired everyone from Nirvana and Beck to Yeah Yeah Yeahs and The Cribs. In fact, Bikini Kill's Kathleen Hanna once said of Gordon: "She was a forerunner, musically. Just knowing a woman was in a band trading lead vocals, playing bass, and being a visual artist at the same time made me feel less alone."
Introduced by Don Letts as "an artist who has been representing from the get-go," Gordon proved that she's still as daring and experimental as she's ever been. Frenzied rock wig-outs? Check. Deafening distortion? Check. Guitars being played with screwdrivers? Yes, that too. Truly iconic stuff.
Jehnny Beth fired back at misogyny in music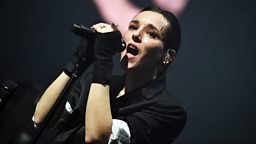 If you've ever been privy to a Savages set then you know Jehnny Beth live is going to be something you're going to want to witness. And on Sunday at 6 Music Festival, Beth didn't disappoint with her eagerly-anticipated solo performance.
The post-punk singer previewed new music, took to the crowd during a rollicking rendition of 'I'm The Man' and, before her song 'How Could You?' (a track co-written with Joe Talbot from IDLES), Beth delivered a much needed speech about misogyny in music, reciting the lyrics from a song about dated gender norms.
"There was a song written by two men in 1963 called 'Wives and Lovers' and it won a Grammy Award," she told the crowd, before reciting such lines as: "Hey! Little Girl / Comb your hair, fix your makeup / Soon he will open the door / Don't think because there's a ring on your finger /You needn't try anymore."
Anna Meredith delivered a masterclass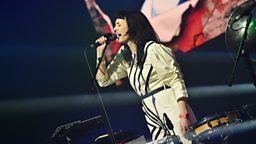 Not many musicians can boast about being an MBE, but then again not many have the talents of Anna Meredith. A former Royal College of Music fellow and a composer-in-residence with the BBC Scottish Symphony Orchestra, Meredith has performed at the BBC Proms and released two acclaimed album to date (2016's 'Varmints' and 2019's 'Fibs').
The classical composer-turned-electronic musician showcased her intricate and evocative soundscapes on the Roundhouse stage, backed by a full band (cello and trombone included!). One highlight was the sublime 'Moonmoons', which Meredith dedicated to "all the beautiful, peaceful women of the world". Quite simply, it was a breathtaking masterclass of a performance leaving few in doubt that they were in the presence of a true contemporary talent.
Kate Tempest wanted us to choose love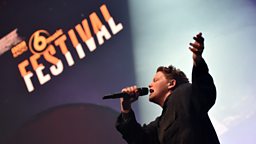 "This is one of my favourite things ever to do," Kate Tempest told the crowd at the start of her Sunday headline set. "I hope the words resonate with you, please may they resonate beyond this room and out into the night and into the days to come. Please let this, tonight, be a story about love."
It was fitting that the festival - and the Roundhouse's International Women's Day line-up - should be closed by an artist whose music is all about shining a light on society's ills and inequalities but always strives to find solace and a better future.