Main content
BBC Radio WM Make a Difference Heroes Awards
BBC Radio WM celebrates its 50th birthday this year.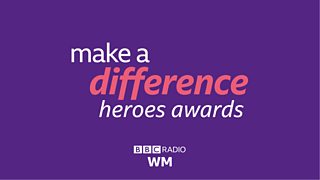 Celebrate the bostin people of Birmingham and the Black Country
To mark this, we want to celebrate the bostin people of Birmingham and the Black Country and the many brilliant ways in which they've responded to the Covid crisis.
The public's reaction to the pandemic has shone a light on the fantastic community spirit of the West Midlands.
That's why we are proud to announce the finalists of the BBC Radio WM 'Make a Difference Heroes Awards.'
The finalists are:
CALL OF DUTY AWARD: Presented to a member of the emergency services, military, or NHS for their commitment to their profession.
Deena Evans – Paramedic, West Midlands Ambulance Service.
Diane Harvey, Walsall Manor Hospital.
Jackie Scott, Good Hope Hospital, breastfeeding support.
INSPIRING YOUNG PERSON AWARD: Awarded to someone 17 or under who has demonstrated courage, talent or commitment in any field.
Florence Dawson, Coseley.
Sebbie Hall, Lichfield.
Tyrese Dibba, Birmingham.
GOOD NEIGHBOUR AWARD: Awarded to an individual or group that helps make the neighbourhood or local community a better place to live or work in, either on a regular basis or through a single act of kindness.
Jeanette Wright from Acocks Green
Mak Singh from Wolverhampton
The Old Station Pub, Kings Heath, Birmingham
VOLUNTEER OF THE YEAR AWARD: Awarded to a person who makes a real difference to the community by giving up their time voluntarily to help out a charity or good cause.
Lisa Maidment from Dudley for the Love of Scrubs
Lucie Dennis from Help Make Tummies Full, Walsall
Samantha Billingham from SODA (Survivors of domestic violence) Dudley.
COMMUNITY SPIRIT AWARD: Awarded to an individual or group whose efforts have embodied the spirit of Birmingham and the Black Country and whose achievements have consistently made you proud to be from the West Midlands.
Dudley For the Love of Scrubs.
Pink Panther and Peppa pig, running for the NHS.
Wolverhampton Dancing Binmen.
Click here for our Privacy Notice and Terms and Conditions (.pdf)